Rajkot:
A section of voters in Gujarat's prestigious Rajkot seat are upset with the ruling BJP and they make their disenchantment clear. In Rajkot's huge imitation jewellery market, the workers say their business has taken a beating since the introduction of the centre's
flagship Goods and Services Tax
. Their displeasure can be a factor in the fortune of the state's most prominent leader - Chief Minister Vijay Rupani, who has been challenged here by Indraniel Rajguru, the richest man in Gujarat assembly.
Rajkot is India's biggest hub of fake jewellery, an unorganised industry with a turnover of nearly Rs 1,000 crore that employs nearly 2.5 lakh people. Not just families ahead of weddings, costume designers from Bollywood regularly make a foray here, the makers proudly claim, naming a string of movies that include hits like the
Balika Badhu
and
Ye Rishta Kya Kehlata Hai
.
It is not the tax that's troubling the manufacturers -- that has increased by just one per cent. From the earlier 2 per cent - one per cent excise and one per cent Value Added Tax - they are now paying 3 per cent GST. What worries them is the prospect of filing returns thrice a month.
Most of the people here are not well-educated, some of them barely know their letters. "There are so many forms to be filled... from transportation and everything related to every small work that we get done. Plus every time, the form changes. They need to make things simpler," said Jayesh Patel.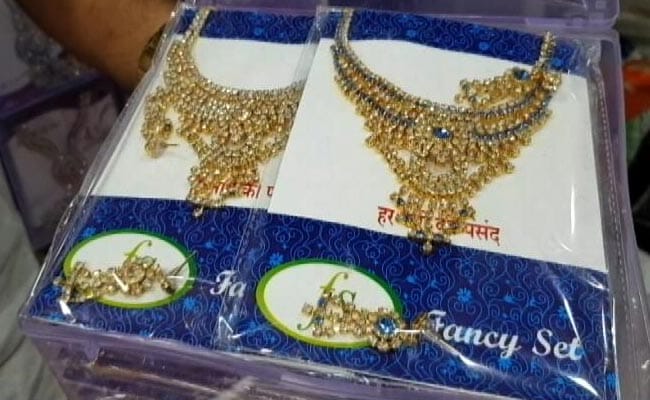 What makes things more complicated is that almost 100 per cent of the work is outsourced. Before a traditional
bali
or
jhumka
is ready to wear, it has made the rounds of a dozen different craftsmen - each one making a part of it. The wages are small - the craftsmen often ear as little as Rs 20 to 50 for each unit. The money is paid in cash. turnover of nearly Rs 1,000 core
Small traders are the ones who are affected the most. In Rajkot alone, there are more than 1,000 units making imitation jewellery, their items are exported to Sri Lanka, Bangladesh, Pakistan, Dubai and even to South Africa.
"This trade is run on loan and interest, since these traders have been unable to sell anything for last so many months. They have been unable to pay me so we have to take away their shops," Man Sukh Mistri, chairman of a local cooperative, Jeevan Commercial Cooperative, told NDTV.
"There is no way out. If we have to make it a Digital India for Modi
saheb
we have to suffer pain," said Panch Surya a trader, in a caustic vein.
But the BJP says it will not affect the Chief Minister's popularity. The Rajkot area has 8 assembly constituencies over which the 2.5 lakh imitation jewellery workers are spread. The party says the government is looking into their concerns.
"Things have been simplified. The GST council keeps meeting regularly and decisions to sort out to concerns of the traders are regularly being addressed," said Gujarat BJP spokesperson Jagdish Bhavsar.
Get the latest election news, live updates and election schedule for Lok Sabha Elections 2019 on ndtv.com/elections. Like us on Facebook or follow us on Twitter and Instagram for updates from each of the 543 parliamentary seats for the 2019 Indian general elections.