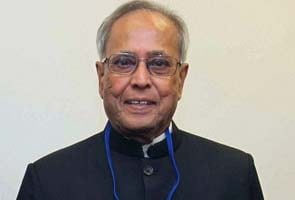 Washington:
Coalition politics is a reality that the UPA government will have to accept, says Finance Minister Pranab Mukherjee. On the sidelines of the annual World Bank and IMF meetings in Washington, the Finance Minister acknowledges that the government's success will depend on its ability to take coalition partners along.
Speaking to NDTV's Sarah Jacob, the minister said there is no perceptible loss of faith in the India story.
Here's the full transcript of the interview:
NDTV:
You had meetings over the last three days at the IMF and the WB and with other Finance Ministers of BRIC nations and US Treasury Secretary Timothy Geithner. Based on your interaction with foreign governments and investors, do you feel that there is a perceptible loss of faith in the India story?
Pranab:
No I don't consider that there is a perceptible loss, but it is a fact that world economy is going through a difficult time, and economies are interdependent today. Therefore, if there is major financial crisis, an economic slowdown, no country can expect that they will remain totally insulated from the adverse effect of that, so this is not the correct perception. Yes our growth has come down. We had domestic problems also, but so is the story with many other countries too.
NDTV:
So after the feedback you have received from foreign investors are we likely to see any tangible changes to the tax proposals announced in last month's budget? Do you believe investors have misunderstood this or have succeeded in dispelling their concerns?
Pranab Mukherjee:
I think I have clarified the position. First of all there are perceptions that when the retrospective amendment is there with the date of enactment. That perhaps all the tax cases will be reopened from that day. I told them clearly that it is not the case. Firstly the amendment that has been introduced is not substantive, it is clarificative in nature. That's why it will have to be with the date of enactment, because it expresses the intention of the legislature. The reopening of the cases will only be for 6 years, because there are other provisions in the income tax act where cases more than 6 years old cannot be reopened, so there is no question of reopening the cases from the date of the effectiveness.
NDTV:
So there will be no changes in your tax proposals?

Pranab Mukherjee:
No.
NDTV:
At a time when India urgently needs foreign investment to upgrade its infrastructure and spur slowing growth, has the controversy over the economic advisor's comments of no reform over 2014 been really bad timing for you on this trip?
Pranab Mukherjee:
No it's not a question of timing it's a question of there has been a slowdown in the economic reforms process. Some of the legislations are still pending. We are trying to get the approval of various stakeholders, and if they agree then it will be possible to get the legislation done quickly. What he made is the comparison that it becomes easier to get the legislations done if there is a single party majority, but if there is no single party majority then we shall have to carry people with us. It is as simple as that.
NDTV:
Under these circumstances, if you had to set three or four clear goals for yourself as FM for the next one-year, what would they be?
Pranab Mukherjee:
First I would have to get certain legislations done. Secondly I shall have to try to achieve fiscal consultation what I have indicated in my budget speech. And third of course, which is very vital and important, that I shall have to keep the inflationary pressure at an acceptable level and moderate the inflationary pressure. These three-four objectives are the immediate tasks for the short term, and long term of course that we must achieve the higher growth target.
NDTV:
But it's not going to be easy to achieve this. You are likely to continue to face opposition and will have to still deal with coalition politics What would you be comfortable being judged on one year down the line?
Pranab Mukherjee:
It's not a question of being comfortable or being non-comfortable, I shall have to accept the ground reality. Yes coalition is there, and naturally coalition means it consists of various parties. Different parties have different perceptions, and you shall have to carry all the stakeholders who are part of the coalition government on both so we can achieve the objective. It may take time, but except that there is no other alternative.
NDTV:
India has long held that BRICS nations should to play a greater role in the governance of multilateral lenders such as the International Monetary Fund. You spoke strongly about this again in Washington this week so why did India support Jim Kim for President against the developing countries candidate Ngozi Okonjo-Iweala, who is considered to the "developing countries' candidate" and who most economists believe was better qualified?
Pranab Mukherjee:
First of all we shall have to keep in mind that there is a way in which the executive directors and the executive board of the World Bank select the candidates. We considered various aspects. It is encouraging that entries, important entries, outstanding entries are coming from the developing countries, and it is not that they are not worthy to be selected as the president of the World Bank, but when there are multiple worthy candidates, only one will have to be chosen.