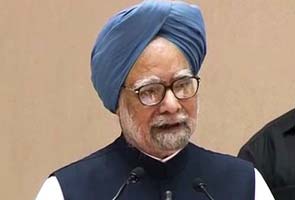 New Delhi:
Prime Minister Manmohan Singh addressed the biennial conference of the Central Bureau of Investigation (CBI) and state anti-corruption bureaus in New Delhi today. During his speech, Dr Singh said the task of ensuring transparency and evolving a mechanism to check corrupt practices had acquired urgency like never before. He also stressed that the Lokpal Bill was at the top of his government's agenda.
Here's the full text of his speech:
"I am very happy to be with you here today. Over the last five years, this is the third consecutive biennial conference of state anti-corruption agencies and the CBI that I have been attending. I believe that in these five years we as a nation have moved substantially forward in our efforts to deal with the menace of corruption. Though we still have a long way to go, I also believe that today we stand at the cusp of far reaching changes in our approach and our institutional mechanisms to curb corruption in public life. But before I proceed further, let me congratulate the very fine officers who have been awarded medals today. We are all very proud of their solid achievements. The CBI owes a great deal of its reputation of professionalism to their talent, to their commitment and to their sustained hard work.
In the last few months the debate over the possible ways and means to curb corruption and improve the processes of governance has intensified in our country. The agitation for the establishment of a Lok Pal has brought the issue of cleaning up of our public life right at the top of the agenda of our national priorities. I believe that the churning over this issue that our society and our polity are witnessing today, marked by sharp differences of opinions and ardent advocacy of particular causes is, on balance, good for our country. Today, the tasks of ensuring transparency and accountability in the work of public authorities and of building effective mechanisms for punishing those who indulge in corrupt practices and protecting those who seek to expose wrongdoings have acquired an urgency as never before. I believe that we as a nation should seize this moment. Let me take this opportunity to reaffirm our government's commitment to expeditiously move forward on a comprehensive agenda of executive, legal and technology reforms to curb corruption and deliver good governance. In this effort, we will continue to welcome suggestions and inputs from various sections of Civil Society and non-government institutions. We should not and we cannot afford to tolerate a malaise that hurts our economic growth, harms our polity, alienates our people, breeds an amount of cynicism, lowers our image internationally and is particularly harsh on the poor.
It goes without saying that the best way to fight corruption is to reduce opportunities for corrupt practices. If government decisions are transparent and the responsibility of individual public servants in the decision-making processes is clearly known, the deterrence against illegal private benefit in public work is so much more enhanced. The Right to Information Act that we provided to ourselves about six years back is a potent tool in ensuring such transparency and accountability in our public life. Here, I would like to emphasize that public authorities should voluntarily place as much information as is possible in the public domain to inform our people.
As part of our efforts to reduce opportunities for corrupt practices, we are also working on ways and means to minimize discretionary powers of public authorities. This is a matter being considered by a Group of Ministers. The same Group of Ministers is also looking at the issue of a public procurement law to minimize irregularities in the award of government contracts worth thousands of crores of rupees every year. In the next few months, it is my hope that we will be able to introduce a Bill in Parliament for such a legislation.
Whatever we might do to minimise the opportunities for corruption, the sad reality is that we cannot build a totally fool-proof system. There will always be some instances of corrupt practices in the work of public authorities. And therefore, there is a need for speedy and thorough investigation into allegations of such wrong doings, followed by expeditious prosecution to bring the guilty to book. Those indulging in corrupt acts must realize that they cannot possibly get away from the law and would sooner rather than later suffer the consequences of their wrongdoing. This would act as a powerful deterrent against corruption.
The CBI is our premier investigation agency. It sets standards and benchmarks for investigation for other agencies to follow, particularly in cases of corruption. What our government and people expect of the CBI is well known. But it bears repetition on occasions like this because sometimes in the routine of our daily work we forget the larger scheme of things. We expect from the CBI the highest standards of honesty and professionalism and a total disregard of any extraneous considerations, particularly political pressure, in its work. We require the use of the latest technology and the knowledge and the application of global best practices in the CBI's work. And professionalism demands facelessness, in the best traditions of our civil services. Premature publicity given to cases under investigation can harm the cause of justice. We must also not forget the distinction between a deliberate attempt at wrongdoing and honest mistakes, sometimes inevitable in decision-making processes under conditions of uncertainty. I do hope, today we will introspect deeply and honestly about these expectations and whether we are doing enough to meet them. Our government will continue to support all efforts of the CBI to maintain the highest levels of personal conduct, to ensure speedy and timely completion of investigations, to strengthen the processes of prosecution and to bring in reforms in the organization, wherever necessary.
India ratified the United Nations Convention Against Corruption in June 2011. This will strengthen our anti-corruption efforts and facilitate international cooperation in trans-border cases of corruption. To meet the requirements of the Convention, we have introduced a Bill in the Parliament to make bribery of foreign public officials an offence. We are considering changes in our laws to criminalize private sector bribery. Another Bill has been introduced in Parliament to provide protection to whistleblowers. The Judicial Standards and Accountability Bill has also been introduced in Parliament.
We hope to see the establishment of a strong and effective Lokpal in the coming months. Whatever be the structure and functions of the Lokpal when it is established, the CBI as our premier investigating agency will continue to play a very important role in our efforts for ensuring probity in our public life.
Our Government has recently decided in-principle to prescribe a three-month deadline for deciding on request of investigating agencies for granting sanction for prosecution of public servants. In fact, this deadline would also apply to requests for permission for investigation by the CBI. We have also decided that if an authority refuses to grant permission for investigation or sanction for prosecution, the reasons for such denial would have to be informed to the next higher authority. Delay in the trial of cases remains an area of serious public concern. To reduce pendency of CBI cases under trial, we have taken a decision to set up a committee under a retired Supreme Court judge to review cases pending trial, which are more than ten years old, and suggest ways and means for their speedy disposal. The Government has sanctioned 71 Special Courts for CBI to fast track trial of cases charge sheeted by the CBI. I am happy to know that a majority of these courts have already started functioning. I would expect Secretary, DoPT and Director, CBI to follow up with the State Governments for also making the remaining courts functional at the very earliest.
A few months ago I had the opportunity to inaugurate the new state-of-the-art building of the CBI. I hope it is serving the needs of CBI well. Our government stands committed to doing everything necessary to enable the CBI to function professionally and smoothly. I assure you that we will do our utmost for meeting the financial, technological and personnel needs of the CBI. I am aware that the Bureau has made requests for greater financial autonomy, increase in funds for modernization and has asked for additional personnel. I would request my colleague Shri Narayanasamy to look into these requests expeditiously.
I sincerely hope that this gathering of the officers of the CBI, Anti-Corruption/Vigilance Bureaux and other distinguished participants will come out with effective, useful and practical suggestions to combat corruption in our public life. Let me end by wishing you all success. May God bless your path."