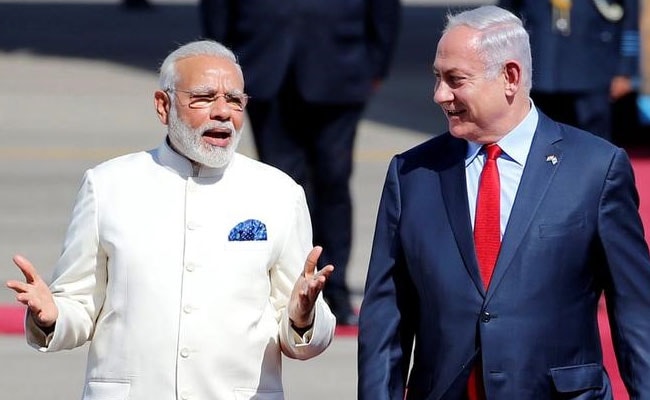 NEW DELHI:
Prime Minister Narendra Modi has revived the deal to buy Spike anti-tank missiles from Israel just weeks after New Delhi had exited the $ 500 million deal, Israeli Prime Minister Benjamin Netanyahu announced on Wednesday after wrapping up his trip to PM Modi's home state Gujarat.
"Following talks I have held with my friend, Indian Prime Minister Narendra Modi, the Indian government has informed us that it is putting the Spike deal back on track. This is very important and there will be many more deals," Mr Netanyahu announced in a 35-second video statement late on Wednesday evening.
PM Netanyahu's statement, who is on his first visit to India, did not elaborate on the details of the understanding that has been reached with New Delhi.
PM Netanyahu: "Following the talks I had with my friend Prime Minister @NarendraModi, the Indian government has informed us that it is putting the Spike deal back on track. This is very important and there will be many more deals."https://t.co/rY9ocD5pys

- PM of Israel (@IsraeliPM) January 17, 2018
It is being speculated that the fresh deal that New Delhi signs could be much less than the $ 500 million negotiated earlier. News agency Reuters said Israel's Channel 1 television was reporting that the original deal worth $ 500 million would be cut in half.
India had opted out of buying the anti-tank guided missiles in December after the Defence Ministry decided to back the state-owned Defence Research and Development Organisation (DRDO) which promised to deliver a world-class missile within four years.
But the Army had been against being made to wait for DRDO-developed missiles, pointing that it would leave the Indian soldiers badly out-gunned till at least 2022.
"So how do we bridge the gap between now and 2022? It's through the Spike. Rather than going whole hog we are in the discussion with the government" to fill in the gap, Army Chief General Bipin Rawat said last week.
Spike is a man-portable "fire and forget' missile that can hit moving targets such as a tank, allowing the soldier who fires the missile to quickly move for cover.
Cancelling the deal would, according to experts, give Pakistan's foot-soldiers an edge over Indian infantry soldiers because they have portable anti-tank missiles that can strike Indian tanks and bunkers at a distance of 3-4 km; India's equivalent missiles have a range of just 2 km.
India had opted for Spike, manufactured by Israel's state-owned defence contractor Rafael Advanced Defence Systems, over the Javelin missiles offered by Washington in 2014.
New Delhi had earlier declined to confirm if the Israeli side had raised the Spike deal at the bilateral meetings on Monday.
"I am not at liberty to go into the details of the discussions but it is suffice to say that where individual defence procurement is concerned the relevant matters are discussed by officials," Vijay Gokhale, secretary (economic relations) had said.