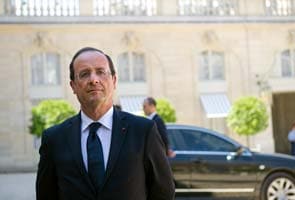 Durban:
French President Francois Hollande today called Prime Minister Manmohan Singh and expressed regret over the killing of two Indians by his country's troops in the strife-torn capital of the Central African Republic.
Dr Singh, who is here on a four-day visit to attend the BRICS Summit, also received a letter from Mr Hollande yesterday in which he had expressed condolence over the tragic incident.
Two Indian nationals, Karna Bahadur from Lucknow and Krishnaya Mogaveera from Mangalore, were killed and six others seriously injured by French troops at Bangui Airport in the Central African Republic yesterday.
French troops, were guarding the airport, when the incident took place. Around 300 French soldiers were dispatched to the Central African Republic over the weekend to reinforce troops already present in the capital Bangui, which was seized by rebels on Sunday.
While conveying his condolences, Mr Hollande assured Dr Singh of his firm determination to investigate the tragic event and assured that the injured were under the care of French medical teams.
Dr Singh expressed his deep distress at the loss of innocent lives. He has directed that all efforts be made to ensure the safety of approximately 100 Indian nationals in the Central African Republic, mainly in and around Bangui.
The Indian Ambassador to the Democratic Republic of Congo, who is concurrently accredited to the Central African Republic, is making necessary arrangements for the return of the mortal remains of the Indian nationals in accordance with the desires of their next of kin.
Menawhile, French Defence Minister Jean-Yves Le Drian told his Indian counterpart A K Antony today that France is conducting a high-level inquiry into the incident.
Mr Drian also told Antony that Indian government would be informed about the outcome of the inquiry, Defence Ministry officials said.
"The French Defence Minister Jean-Yves Le Drian telephoned Defence Minister A K Antony this afternoon to convey his regret over the incident at Bangui airport in CAR in which two Indian nationals were killed and six others injured during firing by French troops guarding the airport," they said.