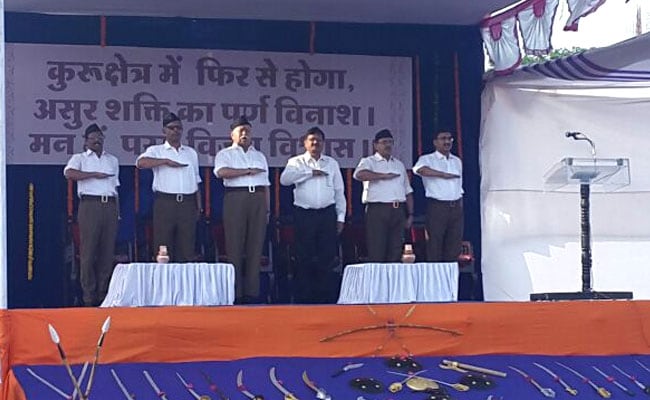 New Delhi:
The Rashtriya Swayamsevak Sangh (RSS), the BJP's ideological mentor, will for the first time hold a meeting of leaders and
pracharaks
or field workers from all over the country in Jammu and Kashmir, over three days in July this year. The RSS is worried over continuing unrest in the state, where the BJP partners chief Minister Mehbooba Mufti's People's Democratic Party in the government, and wants to signal to the party's voters that they are top priority.
The meeting will be held from July 18 in Jammu, the region of the state that gave the BJP all 25 seats it won in the assembly elections two and a half years ago.
BJP chief Amit Shah will attend the meeting, an annual review that brings together the RSS's top leaders, including chief Mohan Bhagwat, and the RSS's backbone, its
pracharaks
. Leaders of other organisations affiliated to the RSS like the Vishwa Hindu Parishad (VHP), and the Akhil Bharitya Vidyarthi Parishad (ABVP) will attend too.
"It will be the first all-India -level meeting to be held in Jammu and Kashmir in 90 years. The Sangh wants to signal to its workers in the region that the challenges in the state are mounting and the cadres need to rework their strategy," a top RSS leader told NDTV.
The BJP's sweep of Jammu in the 2014 assembly elections made it the second largest party, its best performance in J&K ever. After weeks of negotiations, it joined hands with largest party PDP to form government.
The RSS, sources said, has feedback that the BJP's voters in Jammu feel that the alliance with the PDP has failed to deliver any tangible benefits for the Jammu and Ladhak regions. RSS workers reportedly also worry that the Mehbooba Mufti government in the state has not done enough to end unrest in the state or create the right atmosphere for normalcy to return.
The RSS had hoped to leverage the BJP's alliance with the PDP to improve its presence in the Kashmir region. Because of the unrest there, it has had to largely restrict its activities to the Jammu region. But it also feels, sources said, that public meetings and processions that it has held in Jammu and in Doda, a Muslim-majority district in the Jammu region, have not helped it build its cadre.
The escalation of tension with Pakistan at the Line of Control and terror strikes continuing, as well the stone-throwing at security forces on the streets in Kashmir, are all seen to have dented the BJP's image in the Jammu region, where it had taken a tough anti-terror stand while campaigning for the state assembly elections and the RSS believes that the strategy in the state needs urgent reworking, source said.