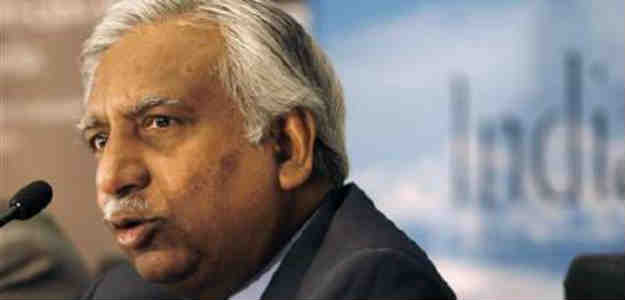 Mumbai:
Jet Airways Founder Chairman Naresh Goyal yesterday said he felt "guilty and embarrassed" as a lot of shareholders have lost their money, amid the airline's shares plummeting on financial woes.

Share price of the full service carrier has slumped over 12 percent since July 2 and in intra-day trading yesterday, it touched a 52-week low of Rs 286.95 apiece.

Addressing shareholders at the company's annual general meeting here, Mr Goyal said competition as well as fuel prices are on the rise.

"Lots of shareholders have lost money, I feel guilty and embarrassed," he said.

From its 52-week high price of Rs 883.65 scaled on January 5, 2018, shares of the company tumbled 67.5 percent to hit one-year low of Rs 286.95 in intra-day trading yesterday. It managed to close with nearly three percent gains at Rs 301.70.

"As you know we had laid a three-year road map to return profitability. We hit that target a year early and followed it up with another profitable year in FY17.

"Although overall revenue increased from Rs 24,175 crore in FY17 to Rs 25,177 crore in FY18, your company reported a consolidated loss of Rs 636.45 crore due to increase in costs beyond our control, which has impacted our results," he told shareholders.

Mr Goyal said key external factors that slowed down the airline's momentum were weakening of the Indian rupee, around 16 percent increase in brent rates with consequent rise in fuel costs and the industry's inability to pass on increased costs to the consumers.

In addition, there was a considerable increase in maintenance, landing and navigation costs during the year, he said.

According to him, operationally the airline took every step possible to maintain a sharp focus on costs and worked to reduce net debt.

"We are committed to strengthen our relationship with Etihad, we will continue to grow (together)," he said.

Meanwhile, in a regulatory filing, Jet Airways yesterday said its board deferred considering the results for the quarter ended June 30.

Stating that Jet Airways was looking "very seriously" on how it can enhance its business in the Gulf, Mr Goyal at the meeting said "fuel prices have gone up, traffic has gone down, competition has become worse not only on on domestic but also on international routes".

Lamenting that airlines, whether its European or Gulf, were not reducing the capacity but were rather dumping more, Mr Goyal said, "(in such a situation), we need to work more closely with our friend Etihad in Abu Dhabi".

Amid rising concerns over the airline's financial health and proposed salary reductions for employees, the Jet Airways chairman said a new committee would be set up to improve public perception and negative publicity about it.

"We have to improve our marketing, we have to improve the negative publicity I am going to put up a small group which is going to work with me," he said.

All perceptions about the company will be corrected through a new executive committee. The airline's directors -- Naseem Zaidi and Ashok Chawla -- would be chairing the meetings of the new executive committee, Mr Goyal said.

"Naseem Zaidi is going to be chairing the management executive committee meeting. Ashok Chawla will also be chairing the meetings."

"So that we follow the compliance, and so it is a board, which will be totally independent. Now there is a feeling that Naresh Goyal family is running (the airline). All these perceptions which have been created in the market place are going to be corrected," Mr Goyal said.

While noting that the airline has a very strong code share network with partners globally, Mr Goyal said his airline has agreed for a code share with European carrier Flybe and was looking at code share alliances with other carriers as well.

Besides, the airline is looking at cooperation with Air India in terms of engineering and flight operations.

Several meetings have also been held with Air India Chairman and Managing Director Pradeep Singh Kharola, he said adding, they agree that there are common problems whether it is cost or fares.

"We are going to discuss how we can cooperate in engineering, in flight operations, so that we can all improve our cost structure," he added.

Responding to shareholders' queries, Jet Airways CEO Vinay Dube said that the carrier has been working very diligently and has been implementing for some time a mission plan that looks at every element of structuring from cost perspective, and revenue perspective among others.

"We are looking at costs related to fuel, fleet, sales and distribution. And the return to profitability will come with the execution of these measures," he said.

We see 8-10 per cent growth in the foreseeable future, he added.

On the issue of pay cuts, Mr Dube said, "We are looking at multiple elements of restructuring and payroll is one of them. We are in deep dialogue with our staff and they are extremely supportive of our restructuring plans.

"In that we will make the best decision in the interest of the company and the employees."

Jet Airways Deputy CEO and Chief Financial Officer Amit Agarwal said its efforts to improve the results have demonstrated in 11 consecutive quarters of profitability.