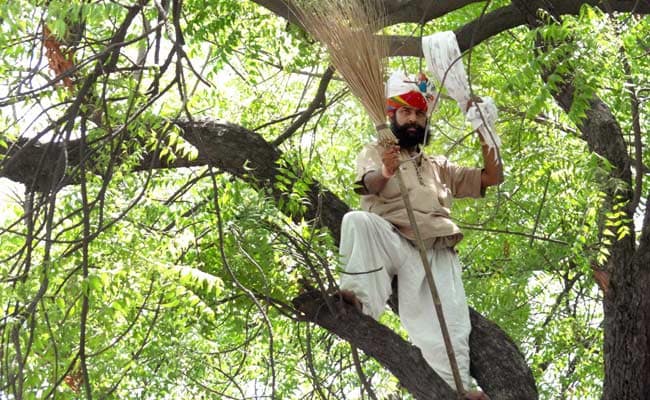 Dausa, Rajasthan:
Rajasthan farmer Gajendra Singh, who hanged himself in front of thousands at an Aam Aadmi Party rally on Wednesday, was not the sort to commit suicide, says his shell-shocked family.
The 41-year-old is seen in a colourful turban, Khaki kurta and dhoti in photographs taken just before he tied a noose out of his scarf and hanged himself from a tree near a stage at the rally.
Rajasthani turbans, or the traditional saafa, were his specialty, say villagers. He used to tie saafas for tourists in Jaipur and boasted of a record of tying 20 a minute. He used his modest fame to campaign against dowry and alcoholism.
"He was full of life and very energetic. He heard about the rally and said he would go because he wanted to draw attention to the suffering of farmers," said a villager.
Though Gajendra's farm had been damaged, he was not in extreme crisis, his family said. In 17 bighas (around seven acres) of land, he owned several trees of guava and aamla or gooseberry; his wheat and mustard crop had been destroyed in unseasonal rain.
After various accounts, the Delhi police are investigating whether Gajendra's death was a suicide or an accident.
Gajendra had reportedly told an aunt who lives in Delhi, that he would come to her house after the rally to have dinner.
"He even called up his younger brother Vijendra Singh on his cellphone to say he was on TV," said a villager.
Most villagers describe him as a kind and generous person who was always ready to help.
"He climbed the tree only to grab attention. Can you seriously believe a man would climb a tree in front of so many people and commit suicide? I can't believe that not one person tried to save him," Gajendra's uncle Rajendra Singh told NDTV.
His family says the letter that Gajendra threw down at the crowd was not a suicide note. "He just wanted help," a relative said.