New Delhi:
Less than a month after a 250-tonne 'goliath' crane came crashing down in cyclonic conditions, the chairman of the government-run Garden Reach Shipbuilders and Engineers Ltd (GRSE) in Kolkata has vowed to complete the construction of three state-of-the-art frigates for the Navy ahead of schedule.
"There will be no effect in terms of construction of 3 Project 17A frigates for the Navy" said Rear Admiral VK Saxena (retired). GRSE has started a crisis mitigation programme and will deliver the first 6,670 tonne warship ahead of its scheduled delivery in 2023, he asserted. "I am making a clear statement and there is nothing under wraps," said Admiral Saxena, calling the accident "a temporary setback."
On April 17, the goliath crane, which is absolutely critical to the construction of warships, crashed into a module hall where blocks for the frigates were being fabricated. "The crane is meant to be secured if a weather warning is issued but in this case, there were no warnings whatsoever," said Admiral Saxena.
Facing a strict deadline for the frigates - the most sophisticated vessels of their class ever to be designed in India - GRSE will now tweak its plan. It will shift construction of individual blocks of the warships to other locations. A block is a prefabricated compartment made in a workshop which is then welded sequentially with other blocks to form the structure of the ship. Each block is designed to enmesh with another block with spaces catered to enclose ducts, wiring, air-conditioning, exhausts, living spaces for sailors and pipelines.
These blocks, once completed, will be mated at the building berth at the shipyard where the completed warship takes its final form and is integrated with its sensors, weapons systems and engines.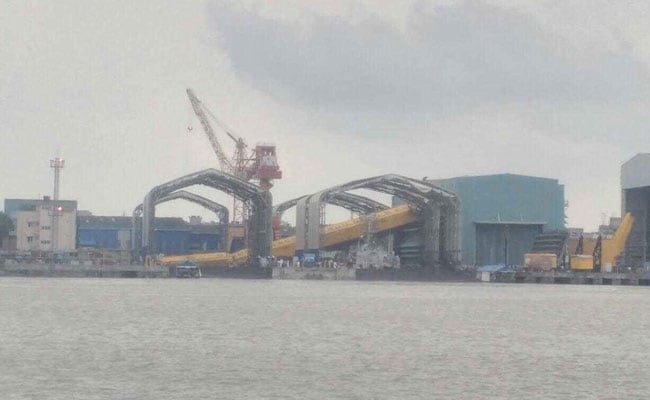 No longer able to lift individual 'mega-blocks' weighing 200 tonnes after the collapse of the goliath crane, GRSE will now construct smaller blocks which can be lifted by its existing cranes. "We have enough space. The Rajabagan dockyard, which is located a kilometer and a half ahead of the main unit will be used for this purpose." GRSE also has a modern 'hull shop' which is not operating at full capacity presently. "Blocks will be constructed here as well" said Admiral Saxena.
For now, GRSE has begun the process of replacing the crane. Just clearing debris from the site of the accident will take three months. Surveyors will need to complete their assessment before insurance claims are honoured. It is only after this that the process of commissioning another goliath crane can begin.
The Navy has ordered seven Project 17-A class frigates in a Rs 50,000 crore project. Other than the three ships being constructed at Garden Reach, four frigates of the class are being constructed at Mazgaon Docks Limited in Mumbai. The ships will ultimately be armed with made-in-India BrahMos missiles which can hit ships out at sea and targets on the land more than 300 kilometres away. The frigates will also be armed with Barak 8 long range surface-to-air missiles, a joint venture between India and Israel. The primary sensor of the frigate, the EL/M-2248 MF-STAR radar also comes from Israel.
Get Breaking news, live coverage, and Latest News from India and around the world on NDTV.com. Catch all the Live TV action on NDTV 24x7 and NDTV India. Like us on Facebook or follow us on Twitter and Instagram for latest news and live news updates.