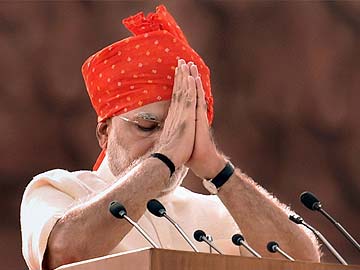 Prime Minister Narendra Modi will be on a
Navratri
fast during his visit to the United States beginning later this week and will only have water, tea and
nimbu pani
or lemonade while there.
During his six-day trip, US President Barack Obama will host dinner for Mr Modi and there are other engagements planned over meals including breakfast with leading American CEOs on September 29.
However, PMO sources said his fast won't impact any engagements he will have during his official visit to the US.
"He will only consume lemonade with some honey and a cup of tea every day," a senior official in Mr Modi's office told Reuters, adding, "He has been fasting for the last four decades and does not want to change this pattern even while he is travelling."
"He wakes up at 4 a.m., meditates, prays and carries his own bottle of lemonade with him," said another government official who has worked closely with Mr Modi for 12 years.
Mr Modi, 64, had hitherto chosen not to schedule official tours and would not leave Gujarat during this nine-day period in his 13 years as chief minister.
Navratri
, or "nine nights" in Sanskrit will be observed from September 25 to October 3. Mr Modi leaves for the US on the evening of September 25, Thursday and is scheduled to return on October 1.
He has a hectic schedule both in New York and in Washington. Apart from an address at the United Nations General Assembly, the Prime Minister will participate in a rally of Indian Americans at New York's Madison Square Garden and will hold bilateral talks in Washington with Mr Obama, who will host dinner for him on September 29.
"Doctors had suggested that he should consume fruits and more juices but he has refused to make any dietary additions during the
Navratri
celebrations," said a senior minister in Gujarat, known to be close to Mr Modi.
Millions in the country fast during the
Navratris
, in worship of Goddess Durga. Many eat a spartan, single meal at the end of every day. Others, like Mr Modi, do not eat at all.