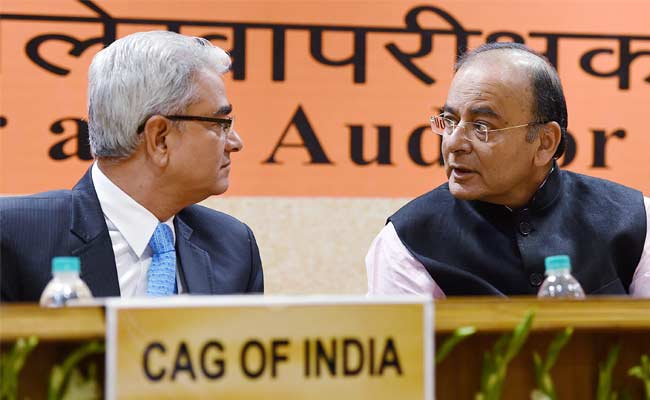 On Wednesday, Finance Minister Arun Jaitley cautioned the Comptroller and Auditor General of India or CAG not to sensationalise its findings.
He almost echoed the argument the Congress party had hard sold after the CAG's reports had projected huge losses to the exchequer in the spectrum and coal allocation scams.
Addressing the annual conference of the CAG, Mr Jailtey said, "An auditor should be conscious that he is reviewing a decision which has already been taken. He doesn't need to sensationalise. He has to be an effective auditor, but activism and restraint are always the two sides of the same coin."
Referring to the controversial allocations by the UPA regime in the last ten years, Mr Jaitley said, "The auditor has to scrutinize thoroughly the decision making process and has to eliminate the possibility of nepotism."
Within the last 72 hours, this was the second word of caution given to the CAG. On Monday, Public Accounts Committee or PAC Chairman K V Thomas addressing the auditors had asked the CAG to restrict audits to financial impropriety and refrain from generating "astronomical figures of notional losses".
The finance minister on Wednesday said, "The auditor must find if a decision is corrupt or wrong. If it is corrupt in his view, then the level of discretion he exercised in something had to be totally different."
Interestingly, he added that the society having learnt the hard way in the last few years has become a "robust and suspicious society".
"Our job is not to convert public opinion into a kind of a lynch mob, Mr Jaitley said.
Although, he highlighted the importance of the CAG by adding, "If uncomfortable questions at times were not asked governance would tend to become despotic."
But his caution in a way echoed the congress reaction to the two crucial CAG reports - spectrum allocation and coal blocks allocation.
Interestingly, the two reports were used by Mr Jaitley's party since 2009 - while in opposition - to target the UPA regime with charges of "integrity deficit" and "crony capitalism".
The BJP had based its campaign against the congress on these reports and had forced the government to announce a Joint Parliamentary Committee (JPC) on spectrum allocations by disrupting the entire winter session of parliament in 2010.
Following the CAG's report on allocation of coal blocks, the BJP had targeted the then prime minister Dr Manmohan Sigh and had asked him to resign. The congress had called the CAG report an "exaggeration" and had said that the losses quoted in the report were notional.