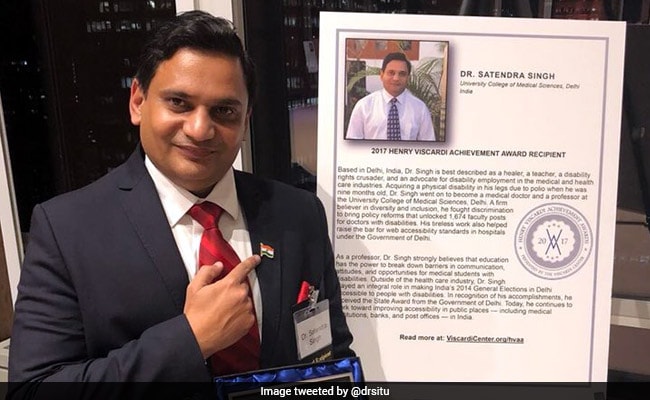 New York:
An Indian doctor and disability rights activist who played an integral role in making India's 2014 General Elections accessible to people with disabilities was today honoured with the prestigious Henry Viscardi Achievement Award in the US.
Dr Satendra Singh, 40, is involved in raising awareness and improving the quality of life of people with disabilities.
"I dedicate this award to the perseverance and the resilience of each and every person with disability around the globe who is fighting discrimination," Dr Singh told news agency Press Trust of India.
He has become the first Indian to get the international award.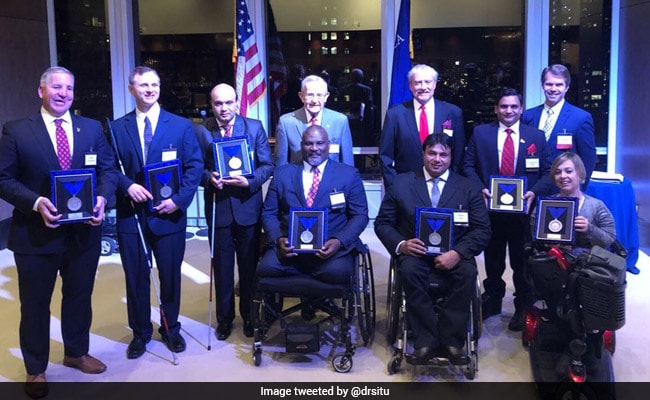 Dr Singh, who is the Associate Professor of Physiology at the University College of Medical Sciences in New Delhi, was presented the award by John D Kemp, the American disability rights leader and the President and chief executive of the Viscardi center.
"I felt very proud to sport the Indian flag badge on my chest while receiving the award here in the US," he said.
The Henry Viscardi Achievement Awards, first bestowed in 2013, recognise exemplary leaders within the community of people with disabilities and their extraordinary societal contributions, while remembering the spirit and legacy of The Viscardi Center's founder, Dr Henry Viscardi, Jr, who himself wore prosthetic legs.
As one of the world's leading advocates for people with disabilities, Viscardi served as a disability advisor to eight US Presidents from Franklin D Roosevelt to Jimmy Carter.
(with inputs from PTI)