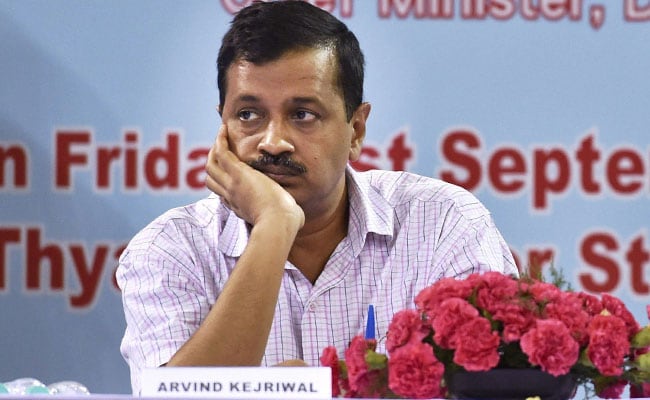 Highlights
20 AAP legislators face disqualification for office of profit
Arvind Kejriwal pitched AAP as victim; Mamata Banerjee also backed him
AAP has 66 seats in the 70-member Delhi assembly
NEW DELHI:
Leaders of the Aam Aadmi Party have been throwing punches at the Election Commission, or EC, after word got out about its recommendation to disqualify 20 AAP MLAs over office of profit. One leader called it a "fake encounter" through the EC, another described it as election body's chief repaying his debt to PM Narendra Modi and some others rushed to the High Court.
From far away Kolkata, Chief Minister Mamata Banerjee also tweeted her support: "A Constitutional body cannot be used for political vendetta... At this hour, we are strongly with Arvind Kejriwal and his team".
But AAP's boss, Chief Minister Arvind Kejriwal, did not say a word.
He broke this silence late in the evening with a tweet.
Mr Kejriwal pitched the AAP as victim, the wronged party.
"There are many obstacles when you tread a path with truth and honesty. This is natural. But all the powers, visible and invisible forces in the unaversive, held you. God is with you because you aren't working for yourself, but the country and society."
"History is witness to the fact that in the end, truth prevails," tweeted Mr Kejriwal who had left it to AAP leaders to raise questions on the EC's conclusions.
AAP lawmaker Saurabh Bharadwaj was one of them. He asked how the Election Commission could arrive at a decision without giving the AAP lawmakers an opportunity to represent their side. This is AK Joti thank you note to the Prime Minister, he said, recalling that the bureaucrat had been PM Modi's aide back in Gujarat when he was the Chief Minister.
The Delhi High Court had cancelled the appointment of the 20 lawmakers as parliamentary secretaries in 2016. But the election commission had ruled last June that this would not end the office of profit case against them.
Six AAP lawmakers have attempted to prevent the poll panel from issuing the orders to disqualify them in a petition before the high court. The court agreed to hear the petition but had to put off the hearing to Monday after the Election Commission's lawyer could not confirm if the panel had sent its recommendation to the President.
The ruling AAP has a giant majority in the 70-member Delhi assembly with 66 seats and the disqualification will not endanger the Arvind Kejriwal government. It will come down to 46 seats, still comfortably across the half-way mark at 35.