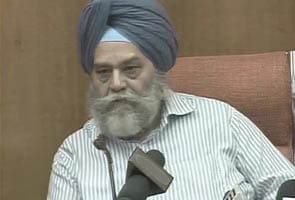 New Delhi:
The Shunglu committee on Monday submitted an interim report on alleged irregularities in awarding broadcasting rights during Commonwealth Games to the Prime Minister's Office (PMO), even as the term of the panel has been extended till March 31 to submit its full report.
Sources say that the committee in its first report on the CWG broadcast rights has found serious fraud. The committee has recommended filing of criminal charges against top Prasab Bharati officials.
The high-level committee was set up by the Prime Minister Manmohan Singh on October 25 last year and asked to submit its report within three months time.
The committee has collected CWG projects related documents running into several thousands from different central and state government departments and studying them to ascertain the wrong doings.
Sources said that the panel is facing shortage of manpower to collect and compile its report and has sought additional hands from the PMO. Former Secretary of Department of Personnel and Training, Shantanu Consul, is also a member of the high-powered panel.
Shunglu, a former Comptroller and Auditor General, was not available for comments.
Several projects done by Municipal Corporation of Delhi (MCD), New Delhi Municipal Council (NDMC), Delhi Development Authority (DDA), Public Works Department (PWD), Central Public Works Department (CPWD), RITES (a government of India enterprise), Sports Ministry, Urban Development Ministry and Games Organising Committee among others are under the scanner of enforcement, investigating and vigilance agencies for alleged bunglings.
The Central Vigilance Commission is enquiring into over 30 complaints related to alleged corruption in Games related works. It includes overlays works, workforce selection, hiring of equipment and public relation related projects executed by OC among others.
Besides, the Central Bureau of Investigation has registered four FIRs naming some of the close aides of OC chairman Suresh Kalmadi for alleged criminal conspiracy and financial irregularities in executing the contracts.
CBI has also questioned Kalmadi and OC Secretary general Lalit Bhanot among others in connection with its cases.
I-T department and Enforcement Directorate are also involved in the investigations related to alleged financial irregularities in works related to mega sporting event held here between October 3-14 last year.
(
With PTI Inputs
)