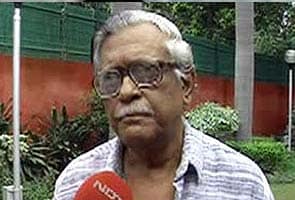 CPI would support a no-confidence motion against the UPA government brought by any political party, party veteran Gurudas Dasgupta today said.
"We will not take responsibility to save the government if a non-confidence motion is admitted in Parliament. We will not walk out, we will vote against the government," Mr Dasgupta emphasised.
Asked on his party's stand on the no-confidence motion proposed to be brought in Parliament by Trinamool Congress,
Mr Dasgupta, however, took care to clarify that this stand was of the CPI's, and not of the entire Left's.
He noted that it was the responsibility of the mover of the motion to get support of 50 MPs required to get it admitted in Parliament.
Mr Dasgupta also said that his party had not yet received any communication from the TMC about the proposed motion.
Asked if the same motion is introduced by the BJP, which has the requisite number of MPs, Mr Dasgupta said whoever brings the motion, the party would support it.
Mr Dasgupta said the ruling government totally failed in its responsibilities and brought the country face to face with an economic crisis and price rise.
Calling for tabling of a white paper on the current economic crisis by the government, Mr Dasgupta demanded a discussion based on that, but at the same time cautioned that Parliament should not be disrupted.
He felt that there should be a say by the Opposition and the judiciary along with the government in the appointment of a CAG body.