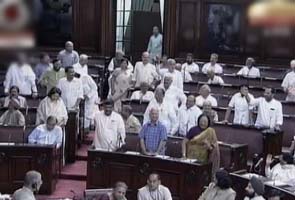 New Delhi:
With the BJP making it clear that it will not let Parliament function till Law Minister Ashwani Kumar and Railways Minister Pawan Kumar Bansal resign, the Congress Core Group met to discuss the Parliament impasse today. Prime Minister Manmohan Singh, party president Sonia Gandhi, her political secretary Ahmad Patel and Parliamentary Affairs Minister Kamal Nath attended the meet.
Like most of the Budget session after it resumed from a break, both Houses of Parliament were adjourned for the day today after constant disruptions and heavy sloganeering by the Opposition.
The government has to ensure that Parliament runs for the remaining three days of the Budget session as it wants to pass at least two legislations important to it - the food security Bill and the land acquisition Bill. It tabled the food security Bill yesterday, but the entire opposition converged in the Well of the Lok Sabha in protest.
Sources say NCP chief Sharad Pawar is mediating with the Left and the BJP to work out a compromise on the Food Security Bill. He is likely to meet the PM too to discuss the issue.
Congress leader KV Thomas accusing the BJP of trying to scuttle the Bill, said, "This is a commitment of the government and we will pass it." The two Bills - both key Congress promises and priority for Mrs Gandhi and her son and number 2, Rahul Gandhi - are also seen as crucial populist measures for the ruling coalition, which has hurtled from one corruption scandal to another, just months before the national election in which it will ask voters for a third consecutive term.
"We will demand for universal coverage under the proposed food security regime as against the 67 per cent coverage proposed in the present Bill," Mr Yechury said earlier today.
The opposition, meanwhile, is playing to its script - it says it will not allow the Congress-led UPA government to push its important Bills in Parliament till the resignation of Mr Kumar and that of Rail Minister Pawan Bansal, both tainted by scandal, are on the table.
"There will be no compromise on corruption... disruptions are also a part of parliamentary tradition," said BJP Spokesperson Ravi Shankar Prasad."
The BJP has slammed the attempt to push the Bill amid ruckus. It has put the onus of running the Houses on the government; Leader of opposition in the Lok Sabha, Sushma Swaraj, has offered, "Sack the two ministers and run the House."
In the last two weeks since it reconvened after a recess, Parliament has seen only 10 hours of work done as the opposition begins each day raising a demand for resignations.