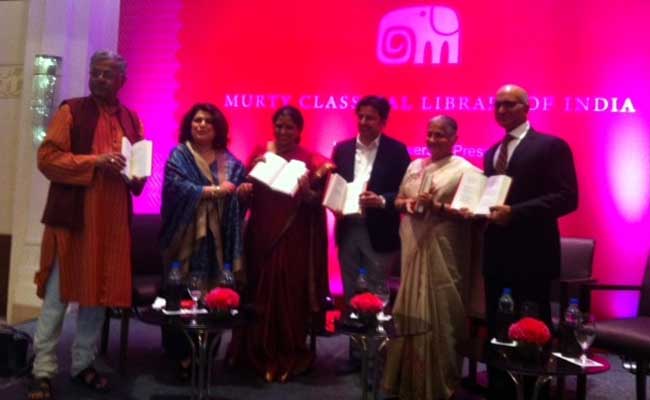 Bengaluru:
The Murty Classic Library aims at bringing out four or five translations per year to English readers and since the project focusses on Indian writing over the last 2,000 years, there is a lot to choose from. Established by Dr Rohan Murty, the son of Infosys co-founder NR Narayana Murthy, the not-for-profit initiative - in collaboration with Harvard University - came out with their first set of five books in 2015.
Their latest addition includes "The Life of Harishchandra" by Raghavanka, which has been translated into English from Kannada by Vanamala Vishwanantha. It was released on Monday evening by playwright Girish Karnard in Bengaluru. It is also the first Kannada book in the collection.
"Vanamala spent three years on the translation," said Mr Murty, who also thanked the twelfth century poet Raghavanka. The eight-century old classic had never been translated from Kannada before.
Vanamala Vishwanantha discussed the difficulty in bridging in sensibility between different cultures while translating the Kannada masterpiece.
Mr Murty's mother, Sudha Murty, recalled the classic work being taught by her mother and stated how Harishchanra stood for truth and not compromising on values.
In addition to an introduction and explanatory commentary, the translated works also include text in the original text. The series will deliver English translations of works in Sanskrit, Bengali, Hindi, Kannada, Marathi, Pali, Punjabi, Persian, Sindhi, Tamil, Telugu, Malayalam, Gujarati as well as Urdu.
The Murty Classic Library was launched by noted Indian-origin mathematician Professor Manjul Bhargava. He had, in 2015, told NDTV, "India has to be the ambassador for its classic."