Kolkata:
On a day panchayat poll-related clashes were reported from across West Bengal, bombs and bullets flew outside the office of the Block Development Officer (BDO) in Nalhati in Birbhum district, where candidates had come to file their nominations.
As reports of trouble came from Murshidabad, North Dinajpur and Alipurduar, the BJP moved Supreme Court, accusing the Trinamool of not allowing BJP candidates to file nomination papers. The petition that also seeks deployment of central forces for the panchayat polls scheduled on May 1, 3 and 5 will be heard on Friday.
At around noon in Nalhati, police reportedly fired in the air to disperse a group of 10-12 people who threw bombs near the BDO office. Some had pistols and bombs in their hands. In the brick-batting that followed, former CPM lawmaker Ramchandra Dom was hit on the head and taken to hospital in a blood-soaked shirt.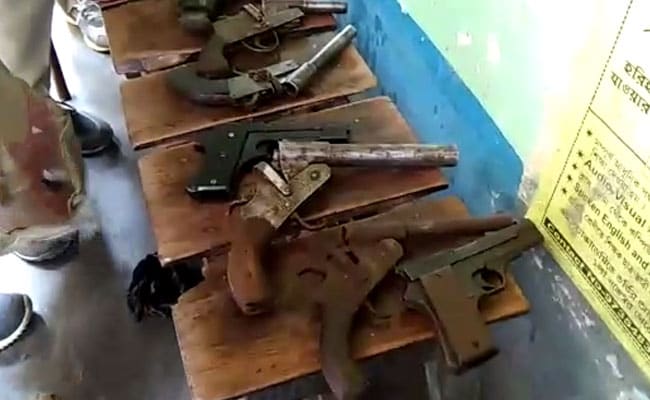 CPM workers were later seen going to file nominations in a procession with bows and arrows in their hands, apparently in self-defence.
Late evening, the State Election Commission reportedly declared that nominations for gram panchayat and panchayat samiti may be filed at the offices of sub-divisional officers as well.
Clashes were also reported from Murshidabad and North Dinajpur districts. While arms were allegedly seized by police from a Congress office at Hariharpara, at Chopra in North Dinajpur, police resorted to a lathicharge and fired tear gas shells to control warring crowds of Trinamool and BJP supporters.
In Kolkata, Trinamool leader Partha Chatterjee led a team of senior leaders first to the office of the State Election Commissioner and later to Raj Bhawan to meet the governor.
"Opposition parties are all filing nomination, they have filed more nominations than Trinamool. The only reason for their complaints is, they want to be in the news headlines," said Partha Chatterjee.
"We are saying the leaders of 'danga' (riots), they are coming here and trying to provoke 'danga' (riots). They are talking about sending people to the 'shoshan' (crematorium). Despite that, Bengal is peaceful."
Mr Chatterjee also said that Asit Murmu, brother of
Ajit Murmu
-- a BJP worker who had died at Bankura yesterday, has publicly said the death was a result of an internal BJP feud. "And yesterday they were saying the man was killed in a clash with the Trinamool," he added.
BJP national spokesperson Rahul Sinha claimed that Asit Murmu blamed the BJP for his brother's death under pressure from the police and the ruling dispensation. "You could see the fear on his face when he said it was an intra-BJP feud. Why did the police call him and keep him at the police station for hours," he asked.
Adhir Chowdhury, Congress lawmaker and the party's state chief, went to Calcutta High Court today demanding that his party candidates and he be given security in the run up to the polls as they were feeling insecure because of alleged Trinamool violence.