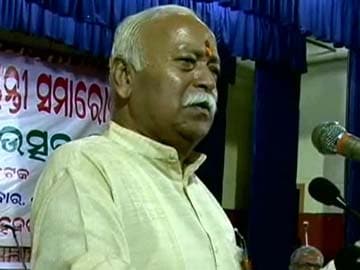 Cuttack:
A leader of the ruling BJP's ideological mentor Rashtriya Swayamsevak Sangh, or RSS, has controversially suggested that India is a Hindu state and "citizens of Hindustan should be known as Hindus", provoking a political storm.
At a function on Sunday, RSS chief Mohan Bhagwat said, "The entire world recognizes Indians as Hindus therefore India is a Hindu state. This is a very simple thing, if inhabitants of England are English, those of Germany are Germans and USA are Americans, all those who live in Hindustan are known as Hindus."
He also said "the cultural identity of all Indians is Hindutva and the present inhabitants of the country are descendants of this great culture."
The comments have been widely condemned, with several parties reminding that the Constitution used the name "Bharat" for India, not "Hindustan".
"Mr Bhagwat will be well advised to read the Constitution. It is written that India is a country of combination of states. Words used by framers of constitution was India or Bharat and not Hindustan. RSS does not understand the reality," said Congress spokesperson Manish Tewari.
CPI-M leader Sitaram Yechury commented, "The constitution says India that is Bharat. We might call it Hindustan but it is Bharat. RSS should clarify whether they respect the Constitution or not."
In a similar observation, Uttar Pradesh politician Mayawati said, "When Ambedkar ji (Bhimrao Ambedkar) wrote the Constitution he kept that in mind that our country comprises various religions and people follow them. So the name Bharat was given, the word Hindustan was not used. The RSS chief does not have proper knowledge of the Constitution. He should learn that and then comment."