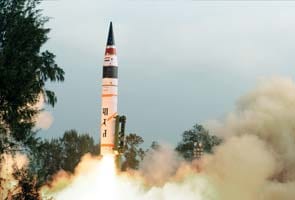 Beijing:
Beijing on Thursday downplayed India's successful launch of a missile capable of striking anywhere in China, saying that the neighbouring giants were not rivals.
India earlier on Thursday, test-fired its new Agni V missile, which boasts a 5000 kilometre (3100 mile) range and is capable of delivering a one-tonne nuclear warhead.
"China has taken note of reports of India's missile launch," Foreign Ministry spokesman Liu Weimin told reporters when asked for comment on the launch.
"China and India are both big emerging countries, we are not rivals but cooperation partners."
Analysts have noted the Agni V extends India's missile reach over all of China, including military installations in the far northeast.