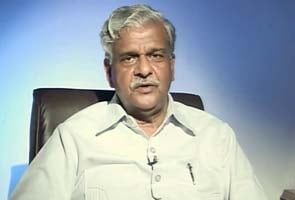 Kanpur:
Union Coal Minister Sriprakash Jaiswal may have apologised for saying that a wife after a few years of marriage becomes less attractive, but trouble for him over the comment seems far from over. Now, a case has been lodged in a district court in Kanpur against Mr Jaiswal for his sexist remark.
The petitioner, Anita Dua, who runs an NGO Lakshya, has said that Mr Jaiswal should be charged with defamation and making obscene comments in public. Ms Dua has submitted a CD of Mr Jaiswal's remarks and newspaper clippings as evidence. The court will, on October 8, record her statement.
If found guilty for defamation, Mr Jaiswal could be sent to jail for a maximum period of two years; if charged and convicted for obscene remarks, he could be sentenced for three months.
Comparing India's Sunday win over Pakistan at the World T20 to a marriage, the 68-year-old Union Minister had said: "
Nayi nayi jeet aur nayi nayi shaadi, iska apna alag mahatva hota hai... jaise jaise samay beetega..jeet ki yaadein purani hoti jayegi; jaise jaise samay beet ta hai, patni purani hoti chali jati hai, vo maza nahi rehta hai
." Loosely translated, he said that like a new victory, a new marriage has its own importance, but as time passes, like the victory, a wife loses her charm.
The minister had made the comment at a poetry meet in a women's college in Kanpur on Sunday night, but defended his statement, telling NDTV that it was "very easy to delete words" from a recording and suggested a conspiracy.
"It is very easy to delete words, it has been done deliberately. I don't want to comment on those who are adding a political colour to it. However, I will like to tell the people of this country that if I have even remotely hurt their sentiments, I apologise. I will never hurt the sentiments of women," he told NDTV.
Asked if he thought his comparison was justified, Mr Jaiswal said that he is a member of the Congress, which "respects women, mothers, sisters". The Congress party, apparently after instructions from its top leadership, has asked Mr Jaiswal for an explanation.
As angry reactions began to pour in, with political foes adding some scathing criticism, Mr Jaiswal told reporters in Delhi that he had no problems apologising to anyone, but added that his statement must be taken in the context of the poetry reading he was attending. "When I was inaugurating a
kavi sammelan
, news came that India beat Pakistan and people started bursting fire crackers. I stopped the
sammelan
and said that you celebrate the victory first since the charm of celebration is when the victory is fresh. If that will get old, the charm will be lost, like when a wife gets old, the celebration of marriage does not remain that enjoyable. My remarks have been misconstrued," said Mr Jaiswal, who has been married for 45 years, according to his official Lok Sabha biodata.
The political colour Mr Jaiswal mentioned was gleefully added by parties like the BJP. Party spokesperson Nirmala Sitharaman said Mr Jaiswal's words showed "how low the Congress can sink". The party also sought his resignation.
There have been protests by women's groups and BJP activists against Mr Jaiswal in his constituency of Kanpur as well.
Congress spokesperson Manish Tewari would only say, "Since Mr Jaiswal has explained and apologised, the matter should rest there."