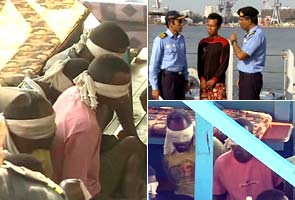 Mumbai:
The 15 Somalian pirates who were captured in a major anti-piracy operation by the Indian Navy and Coast Guard were brought to Mumbai and handed over to the Yellowgate police station today.
A committee of secretaries led by the Cabinet secretary is likely to meet on Tuesday to evolve guidelines to deal with the situation. There is no set procedure or international law yet to try pirates.
India is waiting to see how South Korea and Malaysia deal with the pirates they have recently arrested. German and Norwegian attempts to prosecute pirates in the past have failed.
Speaking to NDTV, the Navy Chief said that pirates coming close to Indian coast was unacceptable and measures are being taken to prevent such incidents.
On Friday, 'Prantalay' Thai fishing vessel, which was being used by Somali pirates as 'mother vessel' since April last year for piracy, was intercepted and destroyed by the Indian navy and Coast Guard close to Lakshwadeep islands in the Arabian Sea. The combined effort also rescued 20 Myanmarese and Thai fishermen held hostage for over eight months.
(Read: Indian Navy, Coast Guard rescue Thai vessel from pirates)