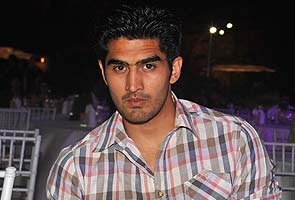 New Delhi:
Just hours after the Sports Ministry asked the National Anti-Doping Agency or NADA to conduct a heroin test on star boxer Vijender Singh, the anti-doping agency has said that it will follow its own protocol. The Olympian was on Sunday accused by the Punjab Police of buying and using heroin on 12 occasions in the last few months.
"We are an autonomous body and don't need to listen to anyone... We are however considering the ministry's request. NADA will do a sample test on Vijender. A substance test on Vijender was due. NADA though cannot test Vijender for heroin... it is not in prohibited list for out of competition athletes," officials from NADA told NDTV.
The ministry had on Monday described the allegations against the boxer as "disturbing and debilitating" and said, "it has, therefore, been considered necessary that NADA gets a test carried out on Vijender for his reported use of heroin even out-of-competition."
Officials from NADA had earlier said Vijender was unlikely to be penalised since any drug use was done out-of-competition. "Heroin is a banned drug, but an athlete can be punished only if he tests positive in 'in-competition' testing," NADA director-general Mukul Chatterjee had said, adding "Vijender is not training for any competition these days, so he cannot be penalised."
The Punjab Police had said that investigations showed that Vijender, who won a bronze at the 2008 Beijing Olympics, and his sparring partner Ram Singh procured the drug from alleged Canada-based dealer Anoop Singh Kahlon between December and February.
Police said the boxer, himself a police officer in the neighbouring state of Haryana, had declined to provide hair and blood samples for testing last month.
Vijender has strongly denied any link to the drug dealer and has slammed as "ridiculous" the allegations against him.
The high-profile sportsman has not been seen in public for the past few weeks and has not issued any statement on the latest police allegations.
Police had seized 26 kilograms of heroin with a street value of Rs 130 crores in March in Punjab. The alleged dealer was arrested along with five others.
Vijender was linked to the haul after a car belonging to his wife was found outside the residence of the alleged dealer near Chandigarh.