Highlights
The Army officer has been identified a Ummer Fayaz
The officer was on leave and had gone for cousin's wedding
He had joined the army five months ago
Srinagar:
A young, unarmed army officer was kidnapped by terrorists from a family wedding last night and killed in Kashmir. Ummer Fayaz, a 22-year-old Lieutenant of the Rajputana Rifles, had joined the army five months ago. His body was found early this morning in Shopian, around 30 km from his village, with bullets in his head and abdomen.
The officer, a Kashmiri, was on leave and had gone for his cousin's wedding at his village in Kulgam in south Kashmir when he was kidnapped around 10 pm. Three terrorists with guns went up to the first floor of his relative's home and dragged him out, according to a cousin, the bride's brother. The family, too terrified to report the kidnapping, had hoped that he would be sent back alive. Hundreds turned up at the village this morning as the festivities turned tragic; the killing of one of their own has left them shocked and angry.
"Young and full of life, the officer was just commissioned in December. The troops enjoyed being with him," army sources said.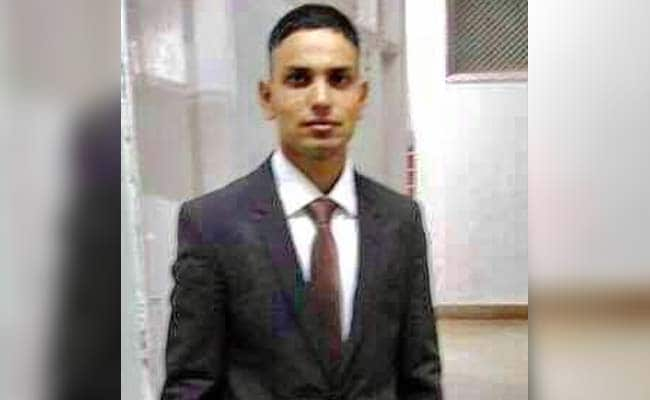 Ummer Fayaz was fresh out of the National Defence Academy (NDA) and knew the risks, but "didn't think twice about going to his village unarmed", they said.

He was in the NDA hockey team and said to be an excellent volleyball player. According to the army, he was tipped to go for a Young Officers' course in September.

"He was an absolutely outstanding officer, outstanding sportsman. Kashmir has lost its son... We have lost a young, promising officer. I am sure when the people of Kashmir realise this, they will join hands and hit back at perpetrators," said Lieutenant General Abhay Krishna, Colonel Commandant of the Rajputana Rifles.

"After he successfully completed his training, he was very well integrated with his troops. He was very very focused. The troops loved him. He used to beat everyone in games. I remember whenever I gave him a task - he used to take it as a challenge. For me it's like losing a member of my family," said Colonel RR Patil, his commanding officer in Akhnoor.

According to Major Avdesh Choudhary who trained him at the Rajputana Rifles Regimental Centre in Delhi after he was commissioned into the Army in December said that Ummer Fayaz overshadowed others due to his enthusiasm.


"I told myself I had to keep an eye on him. I found he overshadowed the others because of his enthusiasm. I thought to myself that he will do well in the Army. He would do well for the regiment and for himself. He wanted to prove something. There was a spark in his eyes. That's what I liked about him," he said.
Ummer Fayaz is believed to be the first Kashmiri officer to have been murdered while on leave in his home state since 1991.
Sources say the brutal killing marks a worrying trend of terrorists targeting army officers even when they are off duty.
An advisory was recently put out by the state police asking its personnel not to visit their ancestral homes, especially in south Kashmir areas. There has been a spike in militant activities in districts like Pulwama, Shopian, Anantnag and Kulgam.
In south Kashmir, local support is evident for terrorists who have been openly roaming the countryside. The police say public support for terrorists is a massive problem for security forces who have frequently encountered resistance from crowds while fighting terrorists.