New Delhi:
A top British diplomat has called the
Golden Temple
a mosque following which he apologised for the gaffe amid protests by the Sikh community. Simon McDonald, Permanent Under-Secretary, Foreign and Commonwealth Office, referred to the Golden Temple in Amritsar as the "Golden Mosque" in a tweet on Monday.
"At Queen's Birthday party, presented with picture of The Queen at Golden Mosque in Amritsar in 1997, a permanent memento for Deputy High Commission's wall," he tweeted.
On realising his mistake, he apologised for the gaffe.
"I was wrong: I am sorry. I should of course have said the Golden Temple or, better, Sri Harmandir Sahib," the British Foreign Office top diplomat said today morning.
However, Bhai Amrik Singh, the chairman of the Sikh Federation, said it was a "major gaffe" by a top civil servant and "totally unacceptable". "It demonstrates a remarkable level of ignorance from someone in his position," Mr Singh said.
"In our view, a public apology and admitting the mistake is not enough. What we need is a commitment from the UK government and senior civil servants to root out such ignorance and discrimination or we will continue to face hate, abuse and threats of violence," Mr Singh was quoted as saying by The Guardian.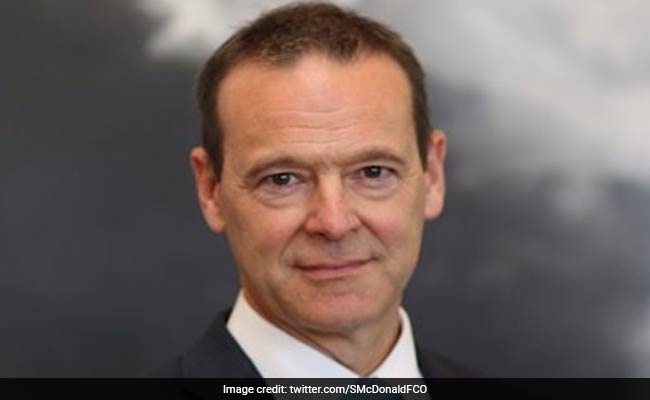 The Golden Temple in Amritsar is the most revered spiritual site of Sikhs in the world.
Jeremy Corbyn, leader of the main opposition Labour Party, today said he would launch an independent inquiry into the British military's role in the Indian Army's raid on the Golden Temple in 1984. Former Prime Minister Indira Gandhi had launched "
Operation Blue Star
" to crush secessionist movement in Punjab and sent troops into the Golden Temple in 1984. Her action led to her assassination by her bodyguards the same year.
Simon McDonald's error follows criticism of Foreign Secretary Boris Johnson for risking offending Buddhists during a 2017 visit to the Shwedagon Pagoda, a sacred site in Myanmar's capital, Yangon.
Andrew Patrick, the UK's ambassador to Myanmar, was
forced to tell Mr Johnson
to stop reciting the opening verse to Rudyard Kipling's "The Road to Mandalay", which chronicles a retired British serviceman's memories of colonial service. "Not appropriate," he was caught on camera telling Britain's top diplomat.
With inputs from PTI and AFP
Follow NDTV for latest election news and live coverage of assembly elections 2019 in Maharashtra and Haryana.
Subscribe to our YouTube channel, like us on Facebook or follow us on Twitter and Instagram for latest news and live news updates.