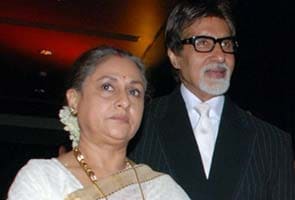 New Delhi:
The Swedish whistle-blower in the Bofors case has said that Amitabh Bachchan was falsely implicated in the case and that though there is no evidence that Rajiv Gandhi had been bribed in the guns deal, the former prime minister "watched the massive cover-up" in India and Sweden and "did nothing."
Jaya and Amitabh Bachchan have publicly reacted to the interview given by former Swedish police chief Sten Lindstrom to website hoot.org.
"The truth has finally come out, god is great," was Jaya Bachchan's reaction to a private TV channel. On his blog, Amitabh Bachchan wrote, "No one shall be able to understand or even remotely fathom, the hours and days and months and years of the anguish of petulant blame, that I had to go through." He says "Those that colluded in desperation still abound... they won momentarily. But lost ultimately. Lost position and strength and power yes, but importantly their conscience."
In his interview, Mr Lindstrom says that Indian investigators during a trip to Sweden in 1990 "planted the Bachchan angle." The actor, he adds, took a local publication that printed this news to court and won.
Nearly 25 years after the Bofors scam rocked both India and Sweden, Mr Lindstrom has confirmed that he is the Swedish whistleblower who leaked over 350 documents to Indian journalist Chitra Subramanian, who was the first to break the story. He has also admitted that he was the journalist's secret informant who operated under the pseudonym of 'Swedish Deep Throat.' Mr Lindstrom led the investigations into the Bofors-India gun deal.
The Bofors case dates back to 1986, when Swiss arms manufacturer Bofors landed a 15 billion dollar contract to supply Howitzer guns to India. A year later, Swiss media began reporting that the company had paid massive kickbacks to Indian politicians and defence officials. Reacting to the reports, then Prime Minister Rajiv Gandhi had assured Parliament that that was not the case. The Bofors scandal however cost him the general election in 1989.
While asserting that there was no evidence of kickbacks to Mr Gandhi, Mr Lindstrom talks about Italian businessman Ottavio Quattrocchi, who was believed to be one of the major players in the Bofors scam. He said the evidence against Mr Quattrocchi was "conclusive" as the bribes paid by Bofors landed in his account. "Nobody in Sweden or Switzerland was allowed to interrogate him," he added. He also suggests that this was orchestrated because of Mr Quattrocchi's closeness to Mr Gandhi.
"The investigation procedure was false... the government had no political will to identify who was behind this," said the Left's Gurudas Dasgupta. The BJP's Ravi Shankar Prasad added, "The then police officer has confirmed that the entire government of Rajiv Gandhi has saved Ottavio Quattrocchi...we want answers from the government."
In 1990, when the BJP-led NDA was in power, the CBI filed a complaint against Mr Quattrocchi in the case. The charges against him included serving as a conduit for bribes. Others named in the CBI case included Win Chadha, who was Bofors' representative in India. Mr Chadha died in 2001.
Mr Quattrocchi left India in 1993 to avoid being arrested. In March 2011, a Delhi court allowed the CBI to close its criminal case against him after the investigating agency submitted that after 25 years and Rs. 250 crores, it had not been able to get Mr Quattrocchi extradited to India, despite appeals in both Malaysia and Argentina.
Get the latest election news, live updates and election schedule for Lok Sabha Elections 2019 on ndtv.com/elections. Like us on Facebook or follow us on Twitter and Instagram for updates from each of the 543 parliamentary seats for the 2019 Indian general elections.