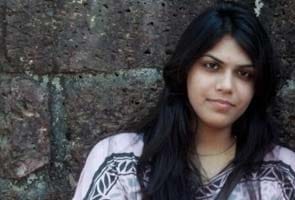 Radhika Gulati (19), is a second-year Commerce student at SRCC college. She was among the 1,800 students who were addressed today by Gujarat Chief Minister Narendra Modi. Here, she shares her experience:
Ever since we got to know that Narendra Modi was going to be a key note speaker in our college, we have been waiting to hear him. Gujarat today is considered one of India's most progressive states and the man responsible for it is chief minister Narendra Modi. So we wanted to understand his role and his ideas.
Today we stayed back in college for over four hours to listen to him, and he did not disappoint. We got to know through our parents that there were protests outside the college. I believe the protests were not needed as there is more to Mr Modi than the Gujarat riots of 2002. We can't judge him for that alone. He needs to be heard and judged for the contribution he's made to the state's development.
Speaking at length on the progress made by Gujarat, he showed us how he was leading by example. He offered statistics to show how Gujarat was making progress. But besides that he also talked about how youth could spearhead change in the country.
He said youth are the new-age power and told us how normal people can take steps for the betterment of this country. I totally agree with his view that the CWG could have showcased India's progress as a country but instead it highlighted corruption at all levels.
Not just me, everyone around me was listening with rapt attention to him. When he asked us permission to speak a little longer, the whole auditorium replied positively. We weren't bored even for a second which also shows what a good speaker he is.
Through his speech today I also felt that he is very dedicated to India's welfare. He mentioned how Gujarat's progress meant the country's progress. I hadn't followed his work too much before today, but after this I will keep track of Gujarat and his work. I really believe he will one day make for a great Prime Minister.
Disclaimer: The opinions expressed within this blog are the personal opinions of the author. NDTV is not responsible for the accuracy, completeness, suitability, or validity of any information on this blog. All information is provided on an as-is basis. The information, facts or opinions appearing on the blog do not reflect the views of NDTV and NDTV does not assume any responsibility or liability for the same.