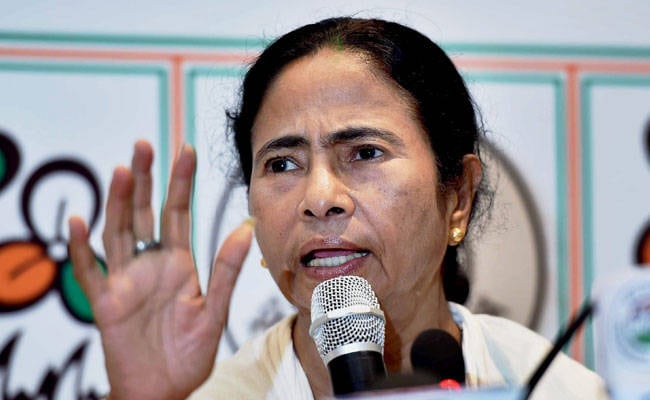 Midnapore, West Bengal:
A BJP leader made derogatory remarks against West Bengal Chief Minister Mamata Banerjee during a party meet yesterday in West Midnapore's Chandrakona. The party's state committee member, Shyamapada Mondal, called her a eunuch and alleged that Ms Banerjee was "practising the politics of appeasement". His obscene remarks made his supporters laugh.
"Mamata Banerjee is indulging in theatrics. We cannot understand whether Mamata Banerjee is a man or a woman. I would say she has become a 'hijra' (eunuch) as you see them in trains and buses," he said.
The meeting was held towards the end of a BJP rally on Chanadrakona Road to demand arrest of Trinamool leaders involved in multi-crore-rupee Saradha chit fund scam and Narada sting footage video.
The Narada sting tapes, an operation conducted last year by a Delhi-based news website, Narada News, showed a dozen Trinamool leaders allegedly accepting cash from Narada journalists posing as representatives of a fictitious company seeking favours from the Mamata Banerjee government.
Mr Mondal also expressed doubts about the Trinamool Congress supremo's mental health. "I will say Didi is of unsound mind (sic). Maybe, after some time, Didi will have to be taken to Ranchi (known for its mental asylum)," he added.
He alleged Ms Banerjee had taken her Muslim appeasement to such a level that she had to prove she was a Hindu to enter the Jagannath Temple at Puri recently.
The chief minister faced embarassment during her April 19 visit to the famous temple when a sevayat (priest) at Puri's Jagannath temple had asked her not to enter the temple. "What a shame! Does any Hindu, Muslim, Christian or Sikh has to wear his religious identity on his sleeve? Only Mamata has to do such thing as she believes in Muslim appeasement politics," BJP national secretary Rahul Sinha had told a gathering on Thursday in Kolkata where BJP national president Amit Shah was also present.
Mr Sinha scathing attack didn't end there and he said, "Mamata is even violating Hadis by wearing hijaab, observing roza and offering namaz which she cannot do as a non-Muslim. Being respectful to other religions is one thing and herself offering namaz is another."
While condemning Mr Mondal's comment, Trinamool Congress Secretary General Partha Chatterjee said the language used does not gel with Bengal's political culture. "The BJP is creating an unhealthy political environment in the state. By making such remarks, they think they will make their party stronger. But they should remember that it is West Bengal. This will not be so easy here. People will give them a befitting reply," Mr Chatterjee said.
The remark drew criticism from various quarters. Theatreperson Manoj Mitra said "ugly words have almost become a routine part of speeches". Another thespian Rudraprasad Sengupta urged Prime Minister Narandra Modi to take action against such BJP leaders resorting to such language.
Educationist Nrisinghaprasad Bhaduri added, "This is not the language of politics. This sort of language is only used by good-for-nothing people."
(With inputs from agencies)