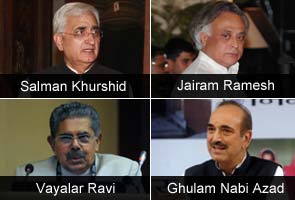 New Delhi:
At least four top Congress ministers have reportedly written to party president Sonia Gandhi asking to be allowed to resign and do more party work, sources have said. However, among the four names, two have issued categorical denials.
Of the names doing the rounds, Law Minister Salman Khurshid is learnt to have written to Mrs Sonia Gandhi offering to step down post the Congress' Uttar Pradesh electoral debacle, owning moral responsibility.
Rural Development Minister Jairam Ramesh met Mrs Gandhi at her 10 Janpath residence this evening. His name too is among those who, party sources say, have reportedly written to Mrs Gandhi. But the minister has denied writing to the Congress chief.
Two other ministers whose names are being talked about, Vayalar Ravi and Ghulam Nabi Azad, have both denied having offered to quit too.
Overseas Affairs Minister Vayalar Ravi categorically told NDTV, "I met Congress President with regard to the Andhra Pradesh bye-elections and never wrote any letter." There has been speculation about a change of role for Mr Ravi ever since he was made the pointperson for party affairs in Andhra Pradesh.
"I am very happy doing my work and will continue. I have been sent to different states at different times. This time I was asked to look into Andhra Pradesh for the by-polls and I went there for a few days," said Mr Ravi today. (
Watch
)
There has also been talk of V Narayanasamy, Minister of State in the Prime Minister's Office, offering to quit. Mr Narayanasamy, though refusing to comment on the letter, did confirm that he met Mrs Gandhi some time ago to discuss party restructuring.
Big changes have been on the anvil for some time now in the Congress as the party preps for the last mile before the 2014 General Elections.
Sources have told NDTV that Mrs Gandhi is keen on a massive rejig and wants a younger Congress Working Committee with Rahul Gandhi as the working President. Sources within the Congress say young MPS from various states like Ajay Maken and Jyotiraditya Scindia will showcase the party's future, before the general elections. Such a move is likely, they say, after the Budget session, and maybe even after the Presidential polls in June.
The plan to revive the Congress organisation, sources say, has been taken following the initial report of a three-member committee headed by AK Antony. The final report is expected be submitted to Mr Gandhi by end of this month.
The Opposition is unimpressed with these reported changes. BJP's Ravi Shankar Prasad told NDTV, "There is still two years for a new government to take over. This window-dressing is of no consequence. If this thing comes about, I only see the problem (of lack of governance) aggravated."