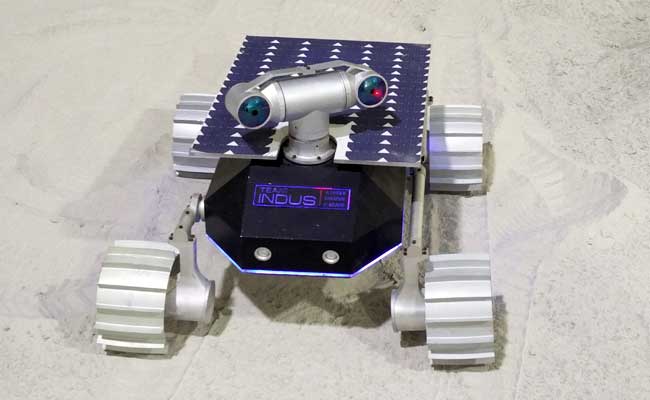 New Delhi:
An Indian private company is in the race to put a robot on moon that will send back images. The competition is for the $20 million Google Lunar XPRIZE, under which the robot should move at least 500 meters on the surface of the moon and send back high definition photographs. The Bengaluru-based Team Indus has tied up with Japan's space enterprise Hakuto. This is the first such collaboration for the Google Lunar XPRIZE.
Here is your 10-point cheat-sheet to this big science story:
The single mission -- currently called "Har Indian ka Moonshot" -- will carry two rovers that will land on the moon, one from Team Indus and another from Hakuto, another first in the history of moon exploration.

The Team Indus rover will not only move 500 meters on the moon surface but also raise the Indian flag on the lunar surface on the Republic Day in 2018.

The Indian Space Research Organisation or ISRO is expects to place its own rover on the moon surface in 2018.

The Team Indus spacecraft will piggyback on India's Polar Satellite Launch Vehicle or PSLV under a commercial deal.

The PSLV will inject the spaceship into an orbit 800 km above the surface of the earth. The spacecraft will then switch on its own engines and set its course for the Moon.

It will land on Mare Imbrium -- meaning the sea of rain -- a vast lava plain in the Imbrium basin of the moon. It will then launch the rovers on the moon surface.

The spaceship will carry up to 20 kg of payload, of which the Japanese rover weighs 4 kg. Besides, it will carry payloads from international universities and student experiments.

So far, only the Russians and Chinese have sent unmanned rovers to the moon. Russia's Lunokhod programme sent the first successful robotic rover to moon in November 1970. The robotic lander Luna 17 still sits in Mare Imbrium. Chinese rover Yutu landed on Moon in December 2013.

The Americans have launched a battery-powered Lunar Roving Vehicle, popularly known as moon buggy, thrice during its Apollo programme in 1971 and 1972.

Announced in 2007, the Google Lunar XPRIZE challenges scientists and entrepreneurs to develop low cost methods of space exploration through robots.
Post a comment