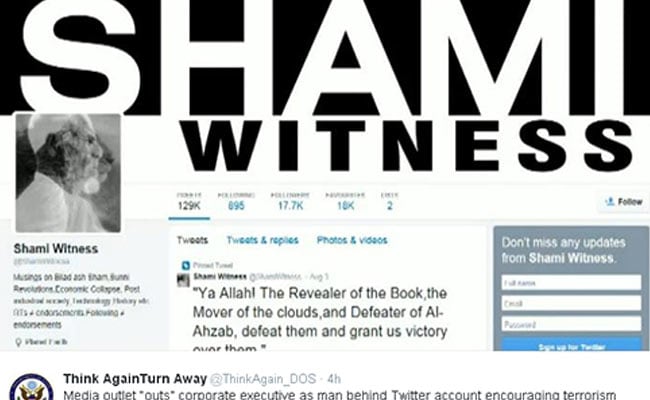 Bengaluru:
An Indian executive based in Bengaluru could be one of the biggest online recruiters for terror group Islamic State, Britain's Channel 4 News has said, claiming to have unmasked the identity of the "man behind the most influential IS twitter account."
The channel claims that it has spoken to the man, whose first name is revealed as "Mehdi", a marketing executive with an Indian conglomerate. "His tweets, written under the name Shami Witness, were seen two million times each month, making him perhaps the most influential Islamic State Twitter account, with over 17,700 followers," it says. (<a href="http://www.channel4.com/news/unmasked-the-man-behind-top-islamic-state-twitter-account-shami-witness-mehdi" rel="nofollow" target="_blank">Read the full report here</a>)
The channel says the man's full name has not been revealed as his life would be in danger. India has not responded to the claims so far.
On being contacted by the channel's reporters, the man shut down the account "@ShamiWitness", which was the leading source of information between jihadis, supporters, and recruits, Channel 4 says.
"He spent his mornings, afternoons and evenings sending thousands of tweets of propaganda about Islamic State," the news channel says, claiming that two thirds of all foreign fighters on Twitter followed him.
The channel quotes "Mehdi" as saying he would have joined Islamic State, but his family was financially dependent on him: "If I had a chance to leave everything and join them I might have... my family needs me here. My parents. They are basically dependent on me," he is quoted as saying.
He allegedly admitted in his interview that he had been in regular contact with a handful of British jihadis.
In its report, the channel says the man, on his Facebook pages, "regularly shares jokes, funny images and talks about superhero movies, posting pictures of pizza dinners with friends, and Hawaiian parties at work." He has also spoken out against rape on that account.