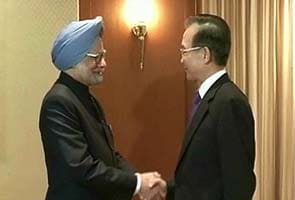 Phnom Penh:
Chinese Premier Wen Jiabao on Monday told Prime Minister Manmohan Singh that China is aware of the need for balancing bilateral trade that is heavily in favour of Beijing.
The two leaders met for 45 minutes in Phnom Penh , perhaps the last such official meeting with the Chinese premier set to leave office in view of the leadership change in that country. Manmohan Singh raised the issue of increasing India's market access to China, especially for IT, services and pharmaceuticals.
He emphasised the need for greater market access and increasing Indian exports to China, Foreign Secretary Ranjan Mathai said while briefing Indian journalists on the talks.
Mr Wen said he is "cognisant of India's interests" for the need to balance trade, and said it will be done "gradually".
While the code of conduct for the South China Sea did not figure in the bilateral talks, Mr Mathai said India favours such a code in the sea, to "make it an area of cooperation". Countries of the Asia and Pacific are demanding such a code in the South China Sea, a major trading waterway where China has been trying to establish control.
India-China bilateral trade hit a record $73.9 billion last year, but the ballooning trade deficit in Beijing's favour rose to over $27 billion.
The bilateral trade registered a $12.2 billion increase in 2011, taking the total to $73.9 billion as against $61.7 billion in 2010, according to official trade figures for 2011.
Chinese Vice President Xi Jinping is set to become President after being anointed general secretary of the communist party, while Li Keqiang is to be the Prime Minister, taking over from President Hu Jintao and Prime Minister Wen Jiabao respectively.
Manmohan Singh is visiting Phnom Penh from November 18-20, 2012 to attend the 10th ASEAN-India Summit and the 7th East Asia Summit.