New Delhi:
Just three days before Rajathan votes in the Assembly elections, a series of leaders led by PM Modi, Rahul Gandhi hold rallies accross Rajasthan today.
Prime Minister Narendra Modi addressed a rally in Rajasthan's Hanumangarh today where he raised the Kartarpur corridor claiming that the holy work of Kartarpur corridor came to him and that the Congress will have to answer why this was not done in last 70 years. He also said that correcting Congress' mistakes was his destiny.
Yesterday PM Modi, who addressed a rally in Jodhpur had spoken of the PM's awarness in Hinduism after Rahul Gandhi had questioned it. Amit Shah also addressed a gathering in Rajasthan yesterday where took a jibe at Rahul Gandhi for not declaring the chief ministerial candidate in Rajasthan. Both Rahul Gandhi and PM Modi had later addressed rallies in Telangana.
Today, Rajnath Singh, Nitin Gadkari, Vasundhara Raje and Hema Malini are among the others who camapain in Rajasthan. Rahul Gandhi will address 4 rallies in the state. Rajasthan and Telanagana will vote on December 7 and the results will be declared on December 11.
Here are the live updates on the assembly elections:
What Rahul Gandhi said at a rally in Jhunjhunu, Rajasthan: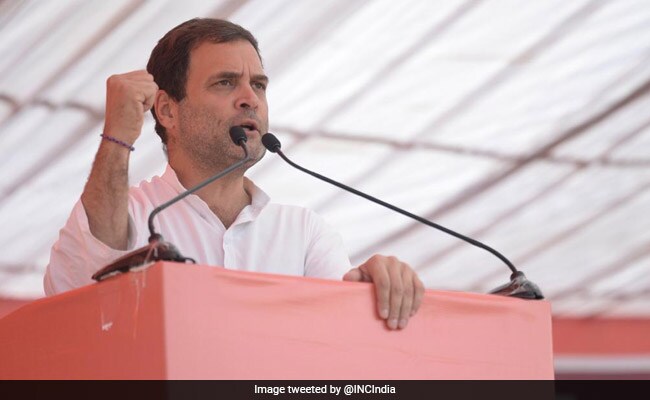 PM Modi promised jobs to 2 crore youths every day. If employment was given, why did 4 men commit suicide in Alwar, Rahul Gandhi asked at the rally.
PM Modi says 'Bharat Mata ki Jai' in every speech, but he works for Anil Ambani: Rahul Gandhi said.
Noteban not a fight against black money; but a fight for turning black money into white money.
PM Modi can't say anything about Rafale. He is afraid. He stole Rs 30,000 crore from public and gave it to Anil Ambani
PM Modi on the Kartarpur corridor:
Kartarpur went to Pakistan due to lack of vision, sensitivity of then Congress leaders: PM Modi said in Hanumangarh, Rajasthan.
The holy work of Kartarpur corridor came to me, Congress will have to answer why this was not done in last 70 years
Credit of Kartarpur corridor goes to your vote, correcting Congress' mistakes was my destiny, the prime minister said.
Then Cong leaders had no idea about importance of Guru Nanak Dev, therefore Kartarpur is in Pakistan today
Focussing on farmers and their problems, PM Modi said in Rajasthan that his government wants to make farmers "energy givers" and asked them to install solar panels, use drip irrigation and other modern methods of farming.
"The naamdar does not know the difference between red and green chillies," he said, hitting out at Congress president Rahul Gandhi, who he has often referred to as "naamdar" (dynast).
"If you tell him that farmers are getting high prices for red chilli as compared to green chilli, he'll say farmers should grown red chillies," he said, alleging that the Congress was responsible for the pain of farmers, Press Trust of Inmdia quoted PM Modi as saying.
On Indian Navy day, PM Modi sent then his good wishes:
Today is December 4th and today is the day of the Indian Navy and I convey my good wishes to the Navy. Our Navy is the Honour, prestige and pride of the country, he said in Rajasthan. The prime minister had earlier in the day, tweeted conveying his wishes.
Navy Day greetings to all valorous personnel of the Indian Navy and their families. India is grateful to our Navy for protecting the nation and the commendable role the Navy plays during disaster relief.

- Narendra Modi (@narendramodi) December 4, 2018
PM Modi addresses a rally in Rajasthan's Hanumangarh:
Kartarpur went to Pakistan due to lack of vision, sensitivity of then Congress leaders, the PM said in Hanumangarh
Holy work of Kartarpur corridor came to me, Congress will have to answer why this was not done in last 70 years
Credit of Kartarpur corridor goes to your vote, correcting Congress' mistakes was my destiny