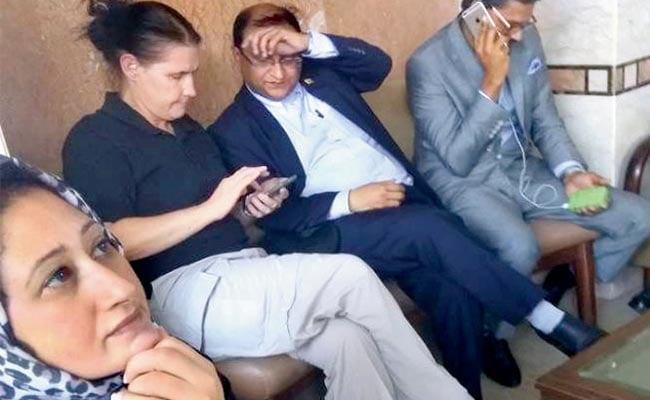 Highlights
Eman Ahmed's sister says she will be taken to Abu Dhabi
4 doctors, 2 officials from Abu Dhabi hospital met Mumbai doctors
Sister had denied Eman Ahmed's weight loss at Saifee Hospital
The saga of
Eman Ahmed Abdulati's weight loss
might continue in a different country now, possibly Abu Dhabi. After a falling-out between Eman's sister Shaimaa and her treating surgeon Dr Muffazal Lakdawala, senior doctors and specialists from an Abu Dhabi-based hospital came to visit Eman on Wednesday.
Speaking to mid-day, Shaimaa said, "I fear I might have to leave Mumbai anytime now. So on standby, I called the experts, as I cannot give up on my sister. I never thought I would have to do it, but I took this decision after the hospital authorities said a day ago that they wouldn't tell me when they'd send us back. If required, I would take Eman to Abu Dhabi for further treatment. I will not stop until she recovers completely."
Experts descend
Four doctors and three management officials from the Abu Dhabi-based hospital VPS Healthcare crosschecked Eman's reports and held a meeting with the COO of Saifee Hospital and Dr Lakdawala on Wednesday. One of the officials said, "We know about the ongoing crisis regarding Eman's treatment and wouldn't make any official comment on it. But when Shaimaa called us for help, we couldn't resist and came just to check the papers." When asked if they are planning to shift her to Abu Dhabi, he said, "It will be too early to say. After checking the papers, we would report it to our superiors, who would then decide."
Saifee's indie team
Saifee has also decided to form an independent team to examine Eman. The experts are yet to be finalized but so far, the names of Dr Ramen Goel, senior bariatric surgeon and director of the Centre of Bariatric and Metabolic Surgery, Wockhardt Hospitals and Dr B Sinhal, senior neuro-physician from Bombay Hospital have been confirmed.
Fortnight feud
As for the fallout, if sources are to be believed it began almost a fortnight ago. Dr Lakdawala said, "Everything was fine until 15 days ago, when I told her [Shaimaa] that Eman is fit to fly back to Egypt. Then she got angry and told me that if we don't keep her in the hospital, she will tarnish its image. I will not say anything if she wants to take Eman to another country, but we know how much we have done for her," said Dr Lakdawala.
Dr Aparna Govil Bhasker, section chief of bariatric surgery at Saifee Hospital, said Shaimaa supposedly wanted to leave for Egypt two weeks ago. But when the hospital authorities got to know about it, they stopped her. "If they want to take Eman to their hospital, we will let her go, but the hardest part [of the treatment] which was the operation has been performed in our hospital only. Now, they would be carrying the fit Eman for treatment." Shaimaa refuted the claims, "I didn't try to elope, I wanted to go to Egypt to bring my mother and daughter to Mumbai thinking it would cheer up Eman."
---------------------------------------------------------------------------------------------------------------------------------------------------
Weighing scales tip
When mid-day visited Eman's room on the seventh floor of the Saifee Hospital, the weighing machine on her bed showed her current weight as 176 kg. However, the picture posted by Saifee Hospital on social media showed her weight as 171 kg. Commenting on it, Dr Aparna Govil Bhasker said, "After bariatric surgery, the weight goes up and down sometimes considering the amount of water going out of the body."

Shaimaa disagrees, "Before she was 500 kg, she could sit back on her own. If I believe that she has lost 300 kg, then why isn't she able to sit on her own? They have reduced the water from her body, not fat," said Shaimaa.(Except for the headline, this story has not been edited by NDTV staff and is published from a syndicated feed.)