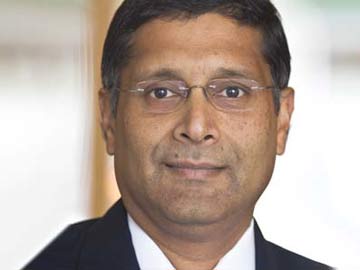 New Delhi:
Prime Minister
Narendra Modi
has not decided whether to appoint US-based economist
Arvind Subramanian
as the government's chief economic advisor, a senior government source told Reuters, in a delay that may impact policy and budget preparations.
Mr Subramanian, a senior fellow at the Peterson Institute for International Economics, was informally recommended to the post by Finance Minister
Arun Jaitley
more than a month ago.
"It was still under consultation between the finance minister and the prime minister. Then the finance minister got sick," the source said.
Mr Jaitley was admitted to a Delhi hospital a month ago for gastric bypass surgery. He was re-admitted to hospital last week and has yet to be discharged.
The Chief Economic Advisor has a high-profile post and is responsible for producing the annual Economic Survey - a document on the state of economy that underpins the drafting of the budget - and a mid-year economic update that is presented to Parliament.
Mr Jaitley's first full-year budget is due in February.
The government is also discussing whether to change the remit of the economic advisor to include wider responsibilities, another source said.
Last month, Mr Modi closed the Planning Commission, a lingering vestige of India's early attempt to mimic the Soviet command economy. Now the government is considering whether to make the role of economic advisor part of an institution to replace the Planning Commission, a second source said.
(Planning Commission May Become 8-Member Think Tank, First Task Decided)
Mr Subramanian was educated in India and Britain and went on to serve at the IMF and at the forerunner to the World Trade Organization, before taking senior academic posts at Harvard and Johns Hopkins universities in the United States.
Recently, he criticised the Indian government's decision to derail a WTO deal struck last year to streamline trade procedures by tying it to a separate controversy over food subsidies.
He also criticized Mr Jaitley's maiden budget in July for being too optimistic in its revenue forecasts, and alleging that it lacked timelines for passing crucial tax and subsidy reforms.
The PM has unleashed a slew of measures to invite foreign investment in India, but has disappointed some backers who had hoped for more decisive action to speed up India's economic recovery.
© Thomson Reuters 2014