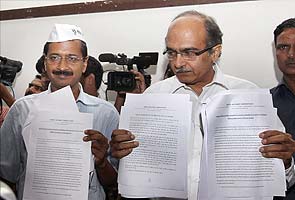 New Delhi:
Activist-turned politician Arvind Kejriwal is expected to elaborate more on his allegations against Congress president Sonia Gandhi's son-in-law Robert Vadra and real estate giant DLF at a press conference later today. Despite the government ruling out an inquiry into the business deals between DLF and businessman Robert Vadra, Mr Kejriwal has said he stands by his accusations against them.
"DLF granted favours to Shri Robert Vadra. What favours did Haryana government grant DLF? How is DLF reply a bunch of lies? Will speak tomorrow at 5 pm," he tweeted yesterday, after Finance Minister P Chidambaram said that at this stage, an inquiry cannot be ordered by the government into the business deals between DLF and Mr Vadra.
"Transactions between two private individuals cannot be questioned on the basis of some imputed or implied act of corruption," Mr Chidambaram said.
The deals have been described as illicit by activists Arvind Kejriwal and Prashant Bhushan, who launched an anti-graft political party last week.
Mr Kejriwal and Mr Bhushan had suggested that Mr Vadra used Congress' black money into his property purchases, estimated by the activists to be worth Rs 500 crore today.
Mr Kejriwal and Mr Bhushan have accused DLF of gifting an interest-free loan of 65 crore as well as discounted apartments in some of the company's fanciest housing projects in Gurgaon in Haryana, just across the border from Delhi. The activists allege that in return for the sweetheart deals, the Congress, which is in power in Haryana, released land reserved for public interest projects to DLF, and that the developer was given express-lane clearances and permissions.
Mr Vadra has described the allegations as "defamatory" and an attempt by the activist-politicians to get "cheap publicity." The Congress has made similar accusations, describing the activists as "political upstarts" looking for attention before elections are held in states like Gujarat and Himachal Pradesh.
DLF has also explained that it gave neither discounted apartments nor unsecured loans to Mr Vadra, and stressed that it has not received any undue favours because of its transactions with Mr Vadra.
Continuing to defend Mr Vadra, the Congress yesterday asked why the activists didn't file a court or police case if they have evidence of financial irregularities against him. When asked why the Congress is defending a private individual, Rashid Alvi, a spokesperson for the party, said, "This attack, which was done purposely, was not an attack on an individual person. This was an attack on the Congress party."
Law Minister Salman Khurshid said that Mr Kejriwal has forced the Congress to react by linking Mr Vadra to Sonia Gandhi in his allegations.
"If he (Mr Kejriwal) had been just mentioned Robert Vadra, then we would not have replied. But he said Robert Vadra, who is directly related to Sonia Gandhi. So we have to reply on the behalf of Sonia Ji. She is the sole reason of what we are and where we are. The Congress chief is everything for us and we can even die for her," Mr Khurshid said yesterday.
Follow NDTV for latest election news and live coverage of assembly elections 2019 in Maharashtra and Haryana.
Subscribe to our YouTube channel, like us on Facebook or follow us on Twitter and Instagram for latest news and live news updates.