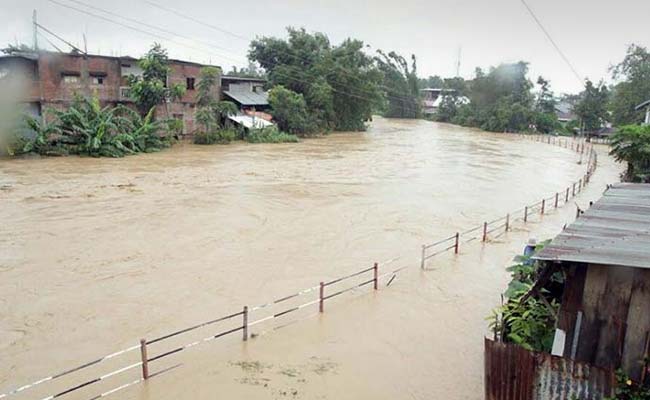 Kolkata:
The aftermath of Cyclone Komen has hit large parts of Bengal, Odisha and Manipur, causing floods and landslides in which around 70 people -- 48 of them in Bengal alone -- have died so far.
The depression has reached Gangetic West Bengal. Rain will continue but intensity likely to be less. Heavy rains have been predicted for the next 24 hours.
Incessant rain has not only sunk large parts of capital Kolkata but also 12 districts, said Chief Minister Mamata Banerjee. Five of the districts are on high alert.

Over 2 lakh people have ended up in relief camps after 1.8 lakh houses were damaged. Farmland of over 21 lakh hectare has been submerged, she said.

Claiming Jharkhand is releasing water and so is Damodar Valley Corporation from its dams, she said, "DVC is doing business in Bengal. We love them but they can drown Bengal".


This morning, the Chief Minister had tweeted:
I have postponed my trip to N Bengal. Again heavy rainfall in Bengal, Jharkhand & Odisa and dams are at dangerous level 1/3

- Mamata Banerjee (@MamataOfficial) August 2, 2015
Manipur is suffering from what people say are the worst floods in at least three decades, in which an estimated one lakh people have been affected. (See pics)
While capital Imphal has been cut off from Moreh on the Indo-Myanmar border and Jiribam on the Assam border, rescue teams are having a tough time in reaching Joumol village in Chandel district, where 20 people died in a landslide yesterday.
National Disaster Relief teams have been rushed to Imphal from Guwahati. They will be airlifted to Chandel district.
The Chakpi and other rivers in the area are flowing well over the danger mark.
In Odisha, almost five lakh people are in relief camps. The overall flood situation has improved and water in the three major rivers is receding.
There has been unceasing rains in parts of Jharkhand's Giridih and Chatra districts too, leading to inundation in low lying areas. Rivers in the district are flowing above or very close to the danger mark. The Jharkhand government said it is closely monitoring the situation.