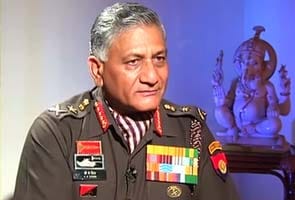 New Delhi:
Army Chief General VK Singh has said neither he nor anyone from the defence services leaked his letter to the Prime Minister. "I don't know who leaked it. I know and my men know that Army did not leak it," General Singh told NDTV.
(Read full transcript here)
The Army Chief also said that all controversies that broke out during his tenure were 'perceived'. Speaking to NDTV General Singh said, "My tenure was eventful, all controversies were perceived. Controversies got manufactured. A lot of things were fed to the papers and the media. Some controversies were raised, not by me, but perceived so by some people."
On the Tatra scam controversy, General Singh told NDTV that "he did what he had to do," adding, "It didn't take me long. The day I was given the lucrative offer, I told the Defence Minister. I told him what I had done."
The Army chief had claimed that a lobbyist, who had "just" retired, offered him a bribe of Rs. 14 crore for clearing a file relating to purchase of a tranche of 600 "sub-standard" Tatra trucks and that he had immediately informed Defence Minister A K Antony about it.
General Singh also said, "I have had an excellent relationship with the honourable Defence Minister. I admire him for his integrity and maturity. I have never found him wanting in the kind of support we have got, whatever people keep saying anywhere else. And we have always provided him with absolutely forthright advice."
The Army Chief's relationship with the Defence Ministry had seen ups and downs over his demand that the government accept his date of birth as 1951 and not 1950. Had the government agreed, it would have affected when the chief was to retire. But the government said it could not amend the chief's records and General Singh became the first serving chief to take the government to court. In February, he withdrew his petition in the Supreme Court after judges indicated they would not be able to accept his arguments.