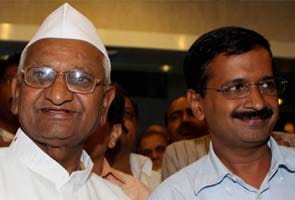 New Delhi:
The group once referred to as Team Anna officially split into two rival halves on Wednesday with 75-year-old Anna Hazare refusing to support the political ambitions of Arvind Kejriwal, who was considered his closest aide.
Anna, who was the face of the India Against Corruption (IAC) campaign, said his name and photo should no longer be used by Mr Kejriwal's faction. "My best wishes are with them," said Anna, adding, "Both of us have chosen separate paths."
At a nine-hour meeting in Delhi, that was often acrimonious, according to sources, the senior leaders of the IAC movement took sides. Anna's supporters allegedly said he had been exploited; the other side said that he had been propped up by leaders from Delhi, according to the Press Trust of India. Anna, who says launching a political party is not correct for the activists, was backed by Justice Santosh Hegde and former top cop Kiran Bedi. Anna also said that he will not campaign for the party being launched on October 2 by Mr Kejriwal and lawyer-activist Prashant Bhushan. He wants to focus his efforts on pressuring the government to introduce a tough new law against graft based on the Lokpal Bill, a legislation that he has lobbied for over two years, with Mr Kejriwal by his side.
Mr Kejriwal tweeted, "country is on sale. It is passing through very difficult phase. I will do everything possible for me to save my country."
Earlier this week, Mr Kejriwal and his associates released the results of a survey which showed that 76 per cent of respondents want the activists to enter politics. Anna rejected that poll. On Tuesday, he said that elections require huge funds, which will be tough for the activists to organise without compromising on their values. He also said that it would be tough to ensure that candidates are not corrupted if they are elected.
With Anna at its forefront and Mr Kejriwal as his right-hand man, the India Against Corruption campaign turned the Lokpal Bill into a national cause. Named for the national ombudsman it creates to tackle complaints of venality against public servants, the Bill has been passed by the Lok Sabha but failed to clear the Rajya Sabha. India was introduced to the Lokal Bill through large street demonstrations and sit-in camps, many of them held while Anna went on lengthy fasts. Over the last few months, however, the protests drew thin crowds. At the last session in August, the poor turnout emboldened the government to ignore the protest in Delhi; no effort was made to ask activists like Mr Kejriwal, who was on a hunger strike, to end his fast. After six days, with poor response, Mr Kejriwal said that the need of the hour appeared to be forming a political alternative. Anna immediately said he would not contest elections or join any party, but said he would support the new front. In the last few days, he has distanced himself completely from Mr Kejriwal's plans.
After splitting with his team, Anna also had a hush-hush meeting with yoga guru Ramdev, reported Press Trust of India. The surprise meeting was held in a house in Golf Links of Delhi in which former Army Chief General VK Singh is believed to have been present. (
Read: Post split with Kejriwal, Anna meets Ramdev
)
(
With PTI inputs
)