Patna:
Highlights
What will happen to party after me, says Bihar Chief Minister
Party was stunned, he then reassured them he is fine
Wanted to signal good work must go on, says Nitish Kumar
Bihar Chief Minister Nitish Kumar buried the lead at
a party meeting he held on the weekend
. At the end of the session with senior leaders of his Janata Dal United or JD(U), Mr Kumar, 66, asked casually, "What happens to the party if I die?"
As the gathering of about 215 politicians erupted in nervous chatter, the Chief Minister said what he meant was that in his absence, the ruling party of Bihar must remain committed to its principles and to serving the people.
Nitish Kumar
has not been unwell. He keeps firm control of his government (12-hour working days are his norm).
In July, he pulled a game-changing switcheroo
, abandoning an alliance with the Congress and regional leader Lalu Yadav to form a new partnership with the BJP.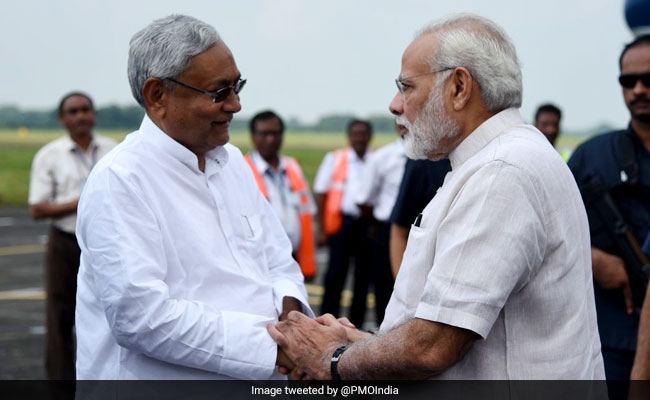 That decision led to a split with his political partner of several decades, Sharad Yadav, who co-ran their party but said he could not abide by the decision to collaborate with the BJP.
Lalu Yadav has already picked son Tejashwi Yadav as his political heir. Mr Kumar has one son who is not interested in politics; he works as one of the main campaigners of Rashtriya Janata Dal.
"In view of the health which Nitish Kumar enjoys, we don't need to worry about who after Nitish for at least the next ten years. Secondly, his comment should be taken in the right context where he urged to all the leaders to be capable and do their job honestly and efficiently which will help them in getting bigger responsibilities," explained Vashishta Narayan Singh, who, as Bihar chief of the JD(U), was presiding over the meeting.
Sources said that some JD(U) members, however, are planning to meet with the Chief Minister separately to request him not to use alarmist language.
However, they also pointed out that Mr Kumar at his Sunday session went on to state that his controversial ban on alcohol in Bihar will not be diluted or reversed "as long as I am alive." This, they said with relief, proves he has no intention of retiring.
Get Breaking news, live coverage, and Latest News from India and around the world on NDTV.com. Catch all the Live TV action on NDTV 24x7 and NDTV India. Like us on Facebook or follow us on Twitter and Instagram for latest news and live news updates.