Highlights
All passengers are safe and only faced minor injuries
Helicopter was carrying eight people - 6 passengers, co-pilot and pilot
The Mi-17 V5 caught fire after it collided with an iron girder
Kedarnath:
A transport helicopter of the Indian Air Force crashed after it hit an iron girder while trying to land at a helipad near the Kedarnath temple in Uttarakhand today. All passengers are safe and only faced minor injuries.
A video has surfaced showing the chopper descending towards the helipad and crashing.
Four people including the IAF pilot suffered injuries; they are out of danger, rescuers said. The helicopter was carrying eight people -- six passengers, the co-pilot and the pilot. The IAF's Russian-origin transport helicopter Mi-17 V5 caught fire after it collided with an iron girder.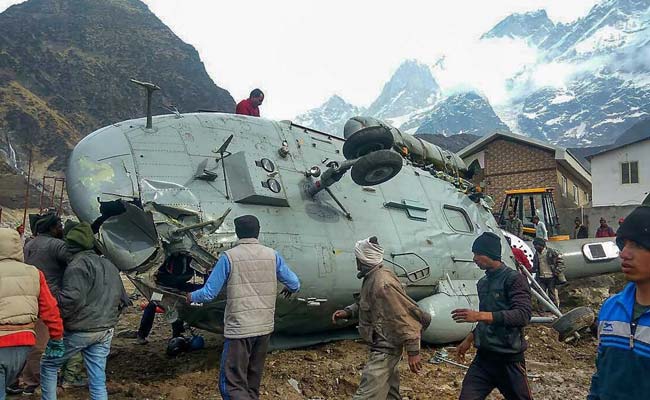 The fire was brought under control, though smoke continued to billow for some time from the engine compartment of the helicopter that came to rest on its side after the crash-landing.
The air force has launched an investigation to find out what caused the helicopter to collide with the iron girder that led to the crash landing.
"Today morning one Mi-17 V5 helicopter of IAF crashed near Kedarnath (Uttarakhand)... A Court of Inquiry will ascertain the cause of the accident," the IAF said in a statement.
(With inputs from ANI)