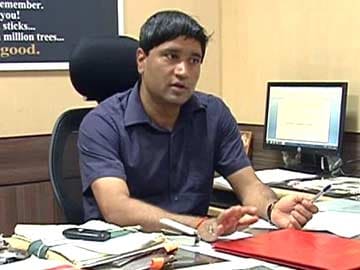 New Delhi:
In the last two years, Sanjiv Chaturvedi unearthed a string of corruption cases at AIIMS, the country's premier government hospital, doing exactly what he's meant to as the main anti-graft watchdog or Chief Vigilance Officer.
But last weekend, Health Minister
Harsh Vardhan
ordered that he be moved out of AIIMS, which has led Mr Chaturvedi to demand that the CBI determine the reasons for his removal.
The Health Minister said today that the officer was wrongly assigned the post at AIIMS in the first place; reading anything more into it, he insisted, is incorrect. "Sanjiv Chaturvedi was not at all eligible for the post," he said, stressing that the Central Vigilance Commission had not signed off on the appointment.
But late in May, a note from his own ministry had recognised Mr Chaturvedi for his "absolute integrity." Among those who had asked whether there were discrepancies in his appointment was JP Nadda, BJP general secretary.
One of the cases of corruption that Mr Chaturvedi flagged involved a senior officer who was posted at AIIMS and belonged to Mr Nadda's home state of Himachal Pradesh.
In 2012, when Dr Manmohan Singh was heading the coalition UPA government, Mr Chaturvedi alleged that he was being persecuted by the Haryana government with transfers and false cases for exposing environmental violations. He was then moved to AIIMS. As a shield for the whistle-blower, a parliamentary committee sought - and was given - an assurance by the Health Ministry (then headed by Ghulam Nabi Azad) that the bureaucrat would not be removed from AIIMS mid-term. The BJP cannot violate that guarantee, said Opposition leaders today, including some from the Aam Aadmi Party.
Mr Chaturvedi's stint at AIIMS showed an institution mired in deep corruption: officials at the hospital used government funds to make illicit foreign trips, a senior bureaucrat's dog was given radio-therapy at the specialty cancer centre, illegal medicines were being sold at the hospital's main pharmacy,security guards were hired without following proper processes for the hospital.
Get the latest election news, live updates and election schedule for Lok Sabha Elections 2019 on ndtv.com/elections. Like us on Facebook or follow us on Twitter and Instagram for updates from each of the 543 parliamentary seats for the 2019 Indian general elections. Election results will be out on May 23.