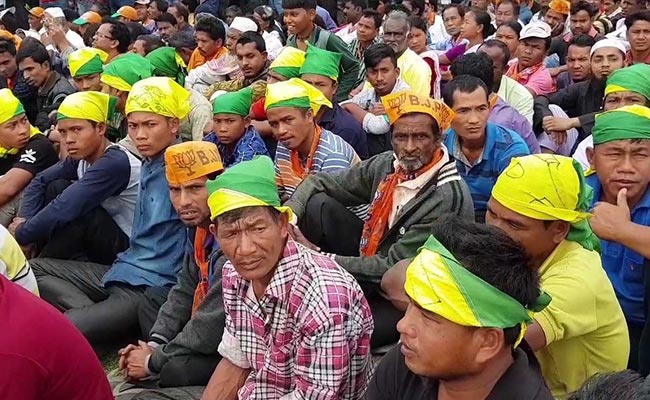 Guwahati:
After scripting an electoral history in the Tripura assembly election, the Indigenous Peoples' Front of Tripura or IPFT has again pitched for its core demand of a separate tribal state "Twipraland". The IPFT is a tribal party and an ally of the BJP in the new state government.
The demand was raised in New Delhi on Monday during a rally organised by the National Federation for New States.
The BJP has now distanced itself from the IPFT's core demand. Sources in the BJP said many of its top leaders had said IFPT has toned down its demand for a separate state and so the pre-election alliance was formed, which went on to dislodge the 25-year-old Left government in Tripura.
Some 500 members of the IPFT led by its Ampinagar legislator Sindhu Charan Jamatia participated in the rally, holding placards that said "No Twipraland, No Rest".
A day after the Tripura election results were declared IPFT chief and now Tripura cabinet minister NC Debbarma had told NDTV that the party would not abandon the demand for a separate Twipraland.
"It is because of our demand that the centre through MHA (home ministry) has agreed to constitute a high level inter-ministerial committee that would look into why this demand came up in Tripura. So we will again hit the streets in favour of our demand," he had said.
The demand has given the opposition in Tripura -- both the Left and the Congress -- to corner the BJP over their alliance partner.
Communist Party of India (Marxist) or CPI(M) parliamentarian from Tripura Jitendra Chaudhury alleged that IPFT had been forcefully raising money from locals for their rally and the BJP had been turning a blind eye.
"How can a representative of the state government demand a separate statehood? Isn't he answerable to the chief minister? And the BJP cannot wash its hands off... the IPFT is very much a part of the government," Tripura Congress working president Pradyot Kishore Manikya told NDTV.
The BJP said that as a political party, the IPFT is free to raise demands. "This is a political demand of IPFT. As a political party they are free to express their views, and is not necessary that it has to be about governance," Tripura deputy chief minister Jishnu Debbarma told NDTV.
The opposition plans to corner the new government in the next assembly session scheduled to start March 23.