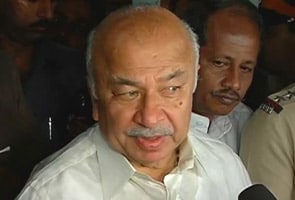 New Delhi:
Union Power Minister Sushil Kumar Shinde was questioned by the Central Bureau of Investigation (CBI) as a witness in connection with the Adarsh scam on Sunday.
A CBI team from Mumbai questioned Mr Shinde at his residence for close to two hours.
Mr Shinde is one of three former chief ministers of Maharashtra whose name had cropped up in the Adarsh land scam. The other two are Ashok Chavan who lost the chief minister's post recently after the scam surfaced and Vilasrao Deshmukh, who was moved to the Science and Technology ministry from the plum Rural Development Ministry in the recent Cabinet reshuffle.
It was during Mr Shinde's tenure as the chief minister between January 2003 and November 2004 that the Adarsh Housing Society got the largest number of clearances.
This included the dubious environmental clearance in 2003 which has now been challenged by the Union Environment Ministry.
Mr Shinde, at the time, also held the Urban Development Department portfolio when the clearance was issued.
In 2004, land was allotted to the project.
In the same year, the largest chunk of the building was opened up to non-defence membership during his term as the chief minister.
Curiously, Mr Shinde had, in his affidavit submitted to the Adarsh Commission, denied any involvement in the entire controversy.
He had categorically stated that he didn't deal with any environmental clearance during his tenure as the chief minister. He, instead, put the onus on the Collector as the competent authority for verifying eligibility. Furthermore, he had claimed that no quid pro quo by officers had been brought to his notice when he was the chief minister.