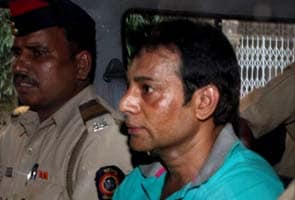 New Delhi:
Extradited underworld don Abu Salem today moved a Delhi court seeking stay on his trial in an extortion case after dismissal of India's appeal against the cancellation of his extradition by Portugal's Constitutional court.
In his application to Chief Metropolitan Magistrate Vidya Prakash, Salem demanded that his trial be stayed as its "continuation after termination of the authorisation granted for his extradition is against the law, justice and without jurisdiction."
On Salem's plea, the court issued notice to the prosecution seeking its reply to his application. Salem's counsel MS Khan submitted that Salem was extradited in 2005 by the Indian government from Portugal where he was arrested in 2002 and according to the extradition agreement, he could not be charged with offences entailing life imprisonment or death sentence.
Salem was extradited in eight cases including the 1993 Mumbai bomb blasts case, two passport Act cases, two murder cases and three extradition cases, one of which is pending before the court in Delhi.
A Mumbai trial court, however, framed fresh charges against him, which Salem challenged alleging some of them violated his extradition conditions.
Salem had filed a petition in the High Court of Lisbon alleging that he had been charged for offences in India for which his extradition was not permitted. The court had allowed his petition and in September 2011 had ruled that extradition conditions had been violated.
Against the Lisbon's high court order, India had preferred an appeal before the Supreme Court of Justice in Portugal, which rejected the same in January 2012. Mr Khan also told the court that an appeal filed by the Union of India in the Constitutional Court, Portugal against the
Order of the Supreme Court of Justice also happened to be rejected on July 5, 2012.
He said, "Salem could not be tried as his trial was subject matter of order of extradition which was terminated on the violation of the Principles of Speciality."
Salem is facing trial in a 2002 extortion case of Delhi-based businessman. He was granted bail in this case on June 26 and the matter is now at the stage of prosecution evidence.