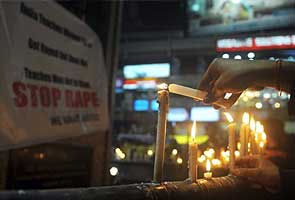 New Delhi:
Every month a 16-year-old boards a train from her remote village in eastern India and steels herself for another round of searing cross-examination by lawyers about the men who kidnapped, raped and sold her.
While the tragic killing of a medical student after she was gang-raped in Delhi has triggered an outpouring of angry protests and attracted global headlines, the ordeal of this young village girl in West Bengal is an equally damning indictment of the fate of sex attack victims in India.
"I hear about the Delhi rape case on the radio every day," she told AFP in a phone interview from her home. "Only a rape victim can understand the grief of another rape victim. She died but I have to live to fight on."
On a summer's day in 2010, while working at her family shop in her village, she says two boys offered her an ice cold soda, laced with sedatives.
She regained consciousness in a train compartment in the presence of three men. When they arrived at a Delhi station, the men frogmarched her to an apartment, she says.
"They locked me in a room, forced me to stay silent by attacking me with shoes and sticks and then they raped me."
The 14-year-old was then sold to a brothel in the capital.
"Drivers, old men, poor men and some rich boys, they all exploited me for a year," said the teen, who was rescued along with 10 other girls by the police and a voluntary organisation during a series of raids in the capital's red light district.
But her struggle was far from over. When she arrived home, she found no one supported her decision to register a police case.
"In a city, a girl still has the freedom to decide, but in a village she cannot make a decision against the wishes of a village head. A woman has to obey her father, brothers, village men," she said.
"Why would one man punish another man? But I registered a police case against my kidnappers, rapists and traffickers."
It took the brutal multiple rape and murder of the 23-year-old student in the capital to push the epidemic of sexual violence against women onto the front pages, but the real epicentre is in the villages.
The teen's village, like thousands of Indian villages, is a tight-knit, mainly agrarian community where family honour and the avoidance of shame are a matter of life and death.
Women are never given the freedom to voice their opinion. Men take decisions on their behalf, including the clothes they wear and whether they can go out or not.
The local police is often reluctant to pursue cases of sex assault. Only last week, a teenager in Punjab committed suicide after she was allegedly asked to drop her complaint in exchange for cash or by agreeing to marry one of her attackers.
But this 16-year-old wanted the world to know what happened. She says too many victims are either afraid or ashamed to speak out.
Her fight for justice has been supported by Shakti Vahini, a voluntary organisation that provides her with legal aid.
"But the confidence and the commitment to fight is solely hers," said Rishi Kant of Shakti Vahini.
Kant, who has been facilitating raids in red light districts of New Delhi for over 12 years, said the city is a hub for sex trafficking, but despite the increase in sex attacks, the number of convictions has fallen.
New Delhi has been dubbed the "rape capital" of India, with a rape reported on average every 18 hours, according to police figures.
The lack of women officers has been widely blamed for the failures of police forces to thoroughly investigate allegations of sex crimes. Women currently account for fewer than one in five Indian police officers.
The West Bengal teen was forced to record her statement -- and the details of her abuse -- before male officers.
Three of her alleged attackers were promptly arrested and charged but two years later they are all out on bail. India's notoriously slow justice system allows defence lawyers to spin the case out as it goes through the courts.
Her family's home has been destroyed and their rice field torched after she refused to withdraw the case.
That defiant streak has enabled to her endure the humiliating questions in the packed courtroom where she is asked to recall minute details of each assault.
"They once asked me how many times did I sleep with men? I replied: 'I never slept with them, they raped me'.
"A lawyer then asked how much money did I make at the brothel? I said, the men just threw a few coins at my face, so they could hurt me more."
Asked if she believes she will ever get justice, she replied: "At least I'm trying."