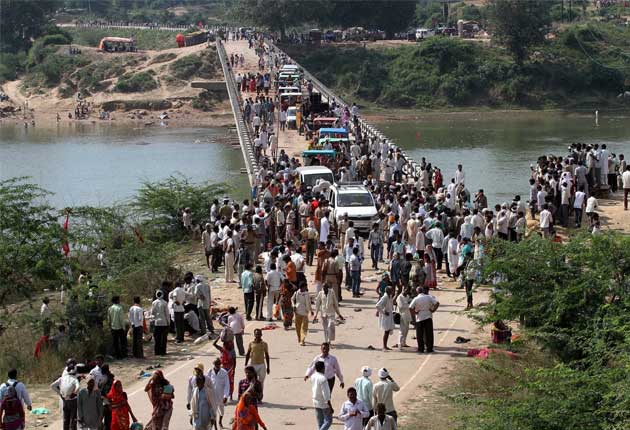 Datia:
89 people have died and over 100 injured in a stampede this morning at Ratangarh temple in Madhya Pradesh's Datia district.
Sources said about five lakh devotees had gathered at the temple, located around 80 km from Datia, for the Durga Puja festivities today. Datia is about 400 km away from state capital Bhopal.
The Ratangarh temple is located in the dense forest on the banks of Sindh river in Datia district. Sources alleged that a group of people, which wanted to cut through the long queue at the bridge, spread the rumour that it was on the verge of collapse, resulting in panic which caused the stampede.
Reports said at least 25,000 people were on the bridge when the stampede happened. Some devotees are also feared to have fallen into the river and are untraceable so far, police said.
Alleging that the police did not act on time to prevent the stampede, angry devotees pelted stones on them in which at least six cops were also injured.
The devotees alleged that cops resorted to lathicharge to control the crowd, a charge denied by a senior police official.
The state government has ordered a judicial inquiry into the mishap.
"The administration is there is full strength and involved in relief operations. Locals are also cooperating," said Uma Shankar Gupta, Home Minister, Madhya Pradesh.
Though the model code of conduct has been enforced in Madhya Pradesh, ahead of the state assembly elections in November, the state government has said it will take the approval of the Election Commission to announce compensation of Rs 1.5 lakh for the kin of the dead, Rs 50,000 for the seriously injured and Rs 25,000 for people who sustained minor injuries.