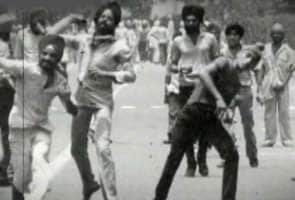 New Delhi:
Go anywhere in the world and you can find Sikhs. Proud in their turbans and usually a happy go lucky attitude to life combined with determination to excel have set this community apart. I still remember the ad by Bajaj scooters with a Sikh riding with wife and two small kids, the message on the spare tyre inscribed "
Chunnu Munnu de pape de gaddi
" as the jingle played on, "
hamara bajaj, bulund Bharat ke buland Tasvir
", which literally translates to, "the strong image of a strong India!"
But why then, almost three decades after the massacre of thousands of Sikhs, is the community feeling like the country has let them down?
The 1984 riots left deep scars and more than 10 commissions and committees later, little justice has been given to the thousands of families of the victims. Young mothers and fathers have now become grandparents. An entire generation has come of age. They all pray for justice but the wheels have turned ever so slowly.
Naresh Gujaral, the Shiromani Akali Dal leader says that his party will continue to fight for justice, to demand a special investigative team (SIT), as had been set up on directions of India's highest court, the Supreme Court, in the case of the Gujarat riots. "Why can't there be a SIT for Sikh riots?" he asks me as we talk in his huge bungalow in the posh Amrita Shergil Marg in the capital. He follows it by saying that the reason this has not happened is that the Sikhs are not a vote bank. "It's a wonderful but small community, and it seems we don't matter to the government."
Less than ten kilometres away at the majestic Bangla Sahib gurudwara in the capital, which also became a shelter to many Sikh families torn up post the 1984 massacres, several young Sikh men are asking the same question. Many of this younger generation of Sikhs may have been spared the terrible memories of those dark days, or so at least I think.
"Our mother weeps whenever the topic of the riots comes up," say two young Sikh women. Both women, married and working in private companies, are like any other members of India's growing middle class- Proud, confident, yet a little angry and confused. "We were spared the horrors as we were too young to remember, but over the years we realized that we were lucky, and feel guilty we couldn't have done more to save friends and neighbours who lost property and lives in the three days of mob frenzy in the nation's capital".
Today, on the anniversary of the riots, both have come to sign a petition outside the Gurudwara, to India's Prime Minister, Dr Manmohan Singh asking him to set up a Special Investigative Team to investigate the riots and bring the guilty to book. The petition has already been signed by several eminent citizens including justice V R Iyer, Madhu Kishwar, Teesta Setalwad, to name a few.
The two women aren't alone. So far, 30,000 Indians have signed asking for the SIT. The community is hoping that they can collect a decent number of signatures before they take their petition to the PM.
Time is clearly running out fast if there is to be any meaningful inquiry. 28 years later, many of the eye witnesses have died, as have some of those who carried out the murders of innocent civilians. Various governments have set up committees and commissions to try and secure justice. But with powers to just make recommendations, they have made little headway.
H S Phulka, senior High court lawyer who has been fighting to secure justice for Sikh families, says, "Just 12 guilty convictions in murder cases across India in which a total of 30 people have been convicted - and most of them are out currently as their appeals are heard, compare that with 3000 Sikhs murdered in Delhi and 4000 more across the country, one can ask, is this justice?"
And that is a question many are asking, not just Sikhs, but several citizen groups which are planning on joining the march from Jantar Mantar towards Parliament on the 3rd of this month in solidarity. Question is, will this be enough to at least start the process of seeing justice happen and the process of healing?