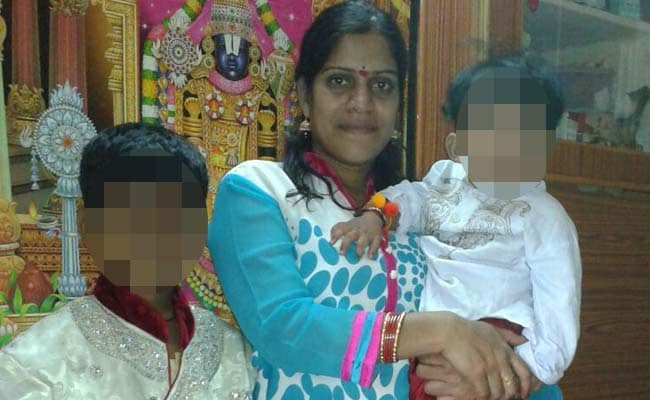 Highlights
Wife of a software engineer was found hanging from her stole on Sunday
She spoke to her parents on phone and said she had been beaten badly
Victim's older son has told police that his father had beaten his mother
Hyderabad:
The wife of a software engineer in Hyderabad was found hanging from her stole on Sunday, hours after she texted her family that she had been beaten up for running the geyser too long.
31-year-old Susrutha's message to her father - which turned out to be her last text - said that her husband Mohan Rao had dragged her out of the bathroom and physically assaulted her in the presence of his parents and two sons, six and four.
She later also spoke to her parents on the phone and said she had been beaten badly. Her father Satyanarayana told her that they would come to her as soon as they could.
By the time her parents reached her home in Hyderabad from Nalgonda, about one and a half hours away, they were told their daughter had hung herself to death.
Sushrutha's older son has told the police that his father had beaten his mother.
The police have arrested Mohan Rao and his parents.
Susrutha's parents say she had described her humiliation on the phone and wept.
"He asked her, why did you switch on the geyser...who do you think will pay the bill? She said on the phone that she was pulled out of the bathroom, humiliated and hit in front of her in-laws and children. She was murdered. There are bruises all over her body,'' said her father.
The family filed a complaint with the police, after which Susrutha's body was taken to hospital for a post-mortem.
Susrutha's uncle Madhusudan said Susrutha's husband and his family had harassed her for years. "They were harassing her for dowry even after two sons," he said.
Sattaiah, a police officer, said cases have been filed for multiple charges including assisting suicide. "The girl's family suspects it is a case of murder. The father Satyanarayana has filed a complaint with us. We have detained the husband and family for further questioning.''