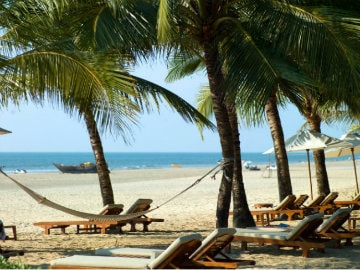 Panaji:
In tourism booklets and guides, it's packaged as paradise - a place to unwind from your worries. But under the glamorous surface and buried in numbers, Goa's suicide statistics reveal a vastly different story.
Students, lovers, the unemployed and alcoholics are increasingly killing themselves in this beach tourism paradise at an average of five per week, a higher-than-national average. Statistically speaking, 5.61 people committed suicide in Goa every week and a staggering 877 people ended their lives over a three-year period for a variety of reasons - unemployment, depression, mental illnesses and jilted love, et al.
Official Goa government data on suicides accessed by IANS for 2011-13 reveals that of the 887, nearly a third - 338 - killed themselves due to depression, mental illnesses and frustration.
The figure of 887 may seem small compared to that in bigger and more populous states, but the fact remains that Goa, with its high socio-economic and health indices, beats the national average for suicides.
In 2012, while India's national average was 11.7 suicides per 100,00 Goa's average was 18.4.
In their study 'Sadness in Paradise: Mental Health in Goa' academics Namdev Gawas and Satish Sawal said: "Goa is one of India's wealthiest states; its infant mortality rates, longevity factor, age of women at time of marriage and literacy rates are superior to those of the large states of North India. Despite this apparently favourable climate for the community, this study has shown a clear relationship between female gender, economic difficulties and emotional illness."
"What is clear is that despite its apparently privileged position in terms of its economy, environment and overall health infrastructure, mental illness is at least as much of a problem (if not more so) in Goa as elsewhere," they further said.
Their research finds echo in the Goa government's suicide statistics.
It's not just adults who are committing suicide. The statistics throw up several instances where school students killed themselves after jilted love affairs, after performing badly in exams or even on expecting bad marks.
The Goa education ministry prioritised counselling of students last year and an analysis of such sessions conducted over a year by professional counsellors hired by the state government has shown interesting results.
Of the 15,447 students counselled last year, 1,317 students complained of difficulty to handle emotional issues, 943 had relationship issues and 203 were victims of substance abuse.
More than 50 students had already contemplated suicide at some point of time, while 1,155 suffered from trauma linked to social behavior issues, 251 suffered from low self-confidence and 438 had health issues, the analysis revealed.
"The diverse socio-economic and cultural levels of the students and the increased competition at school for achieving higher academic grading play havoc with the young minds, more so with the vulnerable sections of society, thereby falling prey to addictions of alcohol, tobacco, drugs and at times gambling," Goa eucation director Anil Powar said.
"The fear of failure also makes the mind lose self-confidence and leads to psychological imbalances and to incidents of suicides among the susceptible youth," he said.